Image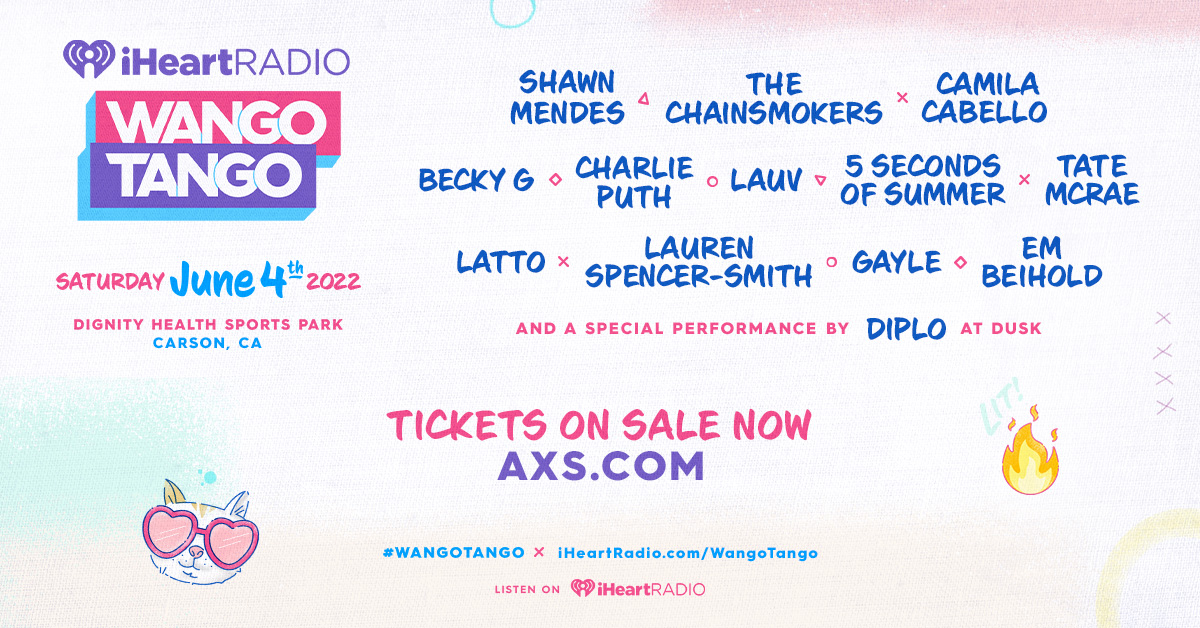 Artist of the Week: Wango Tango 2022 - Headliners Include Shawn Mendes, The Chainsmokers, Camila Cabello and More!
Summer is almost here, and so is Wango Tango! iHeartRadio and KIIS FM's annual show will take place on June 4 at Dignity Health Sports Park in Los Angeles, and the lineup is pretty incredible. 
This year, Shawn Mendes, The Chainsmokers and Camila Cabello will headline, with other hit stars Becky G, Charlie Puth, Lauv, 5 Seconds of Summer, Tate McRae, Latto, Lauren Spencer-Smith, GAYLE and Em Beihold also performing. To cap it all off, there will be a special performance from Diplo at Dusk. And of course, iHeart fan-favorite personality Ryan Seacrest will be hosting all night. 
Fans will surely be curious about the prospect of seeing Shawn Mendes and Camila Cabello perform on the same stage months after announcing their amicable breakup. Both headliners have new music for fans to enjoy, including Cabello's just-released third solo album Familia. Meanwhile, The Chainsmokers announced their fourth studio album, So Far So Good, will debut on May 13 – just in time for the show!
Since 2003, the legendary Wango Tango has remained one of the most anticipated summer events in Southern California and has played home to some iconic performances from pop music's echelon of legendary stars throughout the years.
General tickets will go on sale today at 10 a.m. PT on axs.com, so grab them before they're gone! In the meantime, head over to iHeartRadio's YouTube page to relive some iconic past Wango Tango performances from artists like Ed Sheeran, Taylor Swift, Lady Gaga and more.