Employee of the Month Playlist: Juan Felipe
Going on a road trip this summer? Crafting the perfect playlist can be a major feat so iHeartMedia's Juan Felipe, Associate Product Manager of Android, has curated a cohesive soundtrack with a long drive in mind. You can cruise away with an afternoon of chill indie rock, latin loving tunes and smooth electric beats, this playlist was made for driving with the windows down.​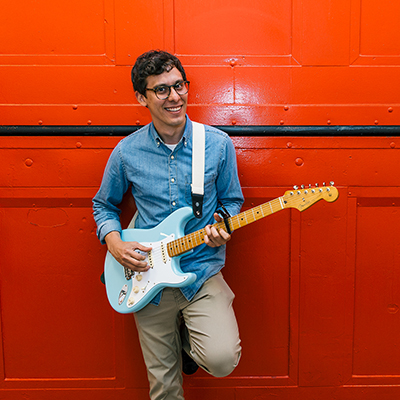 How come you choose the songs on your playlist?
I made this playlist as a compilation of some of my favorite car mixtapes through the years! It starts out with some indie rock songs I used to listen to in high school. Towards the middle you'll find music with a slower, electric feel. And at the end you'll find mishmash of a bunch of songs I really love to hear over and over again. I even managed to sneak in some electro-cumbia into the flow!
When do you listen to this playlist the most?
I just got back from a camping trip to Yosemite and we basically had this playlist on repeat the whole time! I designed this mix specifically for long car rides. It needed to have a generally upbeat but pensive feel to it, enough variation not to feel monotonous, and plenty of familiar songs to keep my audience engaged. When you're driving for hours with a bunch of other people, a well-crafted playlist can really be a lifesaver!
Who is your dream artist to meet and why?
I would absolutely love to meet Juan Luis Guerra. Unless you also like salsa, merengue, and bachata you probably won't know him, but he's one of the best Latin American musicians of our generation, and I have so much respect for that man! I would love to ask him about the inspiration behind a lot of his songs and to learn his process is for composing music.
Can you share your most memorable music moment experience?
A few years ago, when I was living in Medellín, Colombia, I used to go salsa dancing almost every week at this little hole-in-the-wall salsa joint downtown. It was cramped, not well lit, and kind of sweaty but the live music was always enjoyable so you'd always find tons of salsa lovers there. On a random occasion, I noticed a really tall guy with a funky afro walk in with a group of friends and I immediately recognized him as Miguel Guerra, the drummer from Monsieur Periné! I quickly ran up to introduce myself! I got to drink a few beers while chatting with them and I even got to dance salsa with Catalina García, the lead singer of the band.
What is the best part about working at iHeartRadio?
What I love about iHeartRadio is that every day I get to work on solutions to really challenging problems by collaborating with some of the smartest people I've ever met! Whenever I'm posed with a new problem to solve, my favorite thing to do is to find the nearest whiteboard and assemble a small team of engineers, designers, and analysts with different skills and perspectives to see what we can come up with together!
A fun fact about myself is…
A few years ago I briefly worked for a paragliding company! I was friends with the owner who needed a new website for his business, so in exchange for some paragliding lessons, I helped him with a total digital makeover for his company. I had a lot of fun working on that project and it was incredibly rewarding to see how much I was able to help him grow his business.
​