Employee Playlist of the Month: Ravi Bhatia
This month we tapped our Senior Manager of Business Operations & Partnerships, Ravi Bhatia for Employee Playlist of the Month! Take a listen to his playlist here and check out the full list below!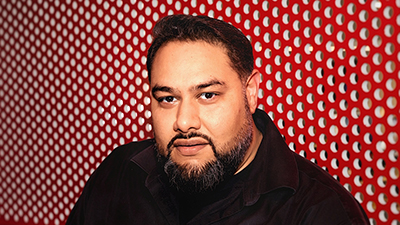 Why did you choose the songs on your playlist?
When I emigrated from India to the U.S. at the age of 15, the only Country song I had ever heard was "Achy Breaky Heart" by Billy Ray Cyrus, and I didn't care much for it. This was around 1993. Fast forward to the 2012 iHeartRadio Music Festival, where I saw Miranda Lambert and Pistol Annies perform on stage. And I liked it! Since then, I have grown to appreciate Country music: the stories told through lyrics, the harmonies, and all the stringed instruments (guitars, banjos, fiddles), all of it. The songs in this playlist have appealed to me musically, lyrically, or emotionally and are a great first playlist if you want to give New Country a chance. 
When do you listen to this playlist most?

When I'm driving my pickup home from an honest, hard day at work and can't wait to kick off my muddy boots and grab a beer.
Who is your dream artist to meet and why?
Country artists are some of the most down to earth, humble people I have met. Thanks to iHeartRadio, I have had the pleasure and good fortune of meeting a few right here at the office – The Band Perry, Maren Morris, Dan + Shay and a few others. However, I was most excited to meet Cam because I love her music. Every song tells a story.​​
Can you share your most memorable music moment experience?
There are so many, but one that stands out was when we hung out with The Band Perry in the office kitchen. They didn't perform; instead we had wine and chatted. The experience was totally low key with some fun conversation. Nicest folks ever!
What is the best part about working at iHeartRadio?
This is my 12th year with our team and I can confidently say that we are all fans of music, with diverse preferences. These qualities help us connect with our users and each other. I'm in awe of the team here and continue to learn something from each and every one, every day. Oh, and the free performances aren't bad either.
A fun fact about myself is…
I am very color blind and have never seen/experienced a rainbow like most of you.
1.     Humble And Kind - Tim McGraw
2.     Follow Your Arrow - Kacey Musgraves
3.     Blue Ain't Your Color - Keith Urban
4.     Faint of Heart - Sister C
5.     Homegrown - Zac Brown Band
6.     Girl In A Country Song - Maddie & Tae
7.     Stay A Little Longer - Brothers Osborne
8.     Merry Go 'Round - Kacey Musgraves
9.     I Feel A Sin Comin' On - Pistol Annies
10.   Die A Happy Man - Thomas Rhett
11.   Two Black Cadillacs - Carrie Underwood
12.   Burning House - Cam
13.   Nothin' Like You - Dan + Shay
14.   Fly - Maddie & Tae
15.   Road Less Traveled - Lauren Alaina
16.   Blown Away - Carrie Underwood
17.   Peter Pan - Kelsea Ballerini
18.   Boyfriend - RaeLynn
19.   Girl Crush - Little Big Town
20.   Love Triangle - RaeLynn
21.   Star Of The Show - Thomas Rhett
22.   Over You - Miranda Lambert
23.   Shotgun Rider - Tim McGraw
24.   Chicken Fried - Zac Brown Band
25.   From the Ground Up - Dan + Shay
26.   Bartender - Lady Antebellum
27.   The House That Built Me - Miranda Lambert
​