Top 10 Fridays: 12/25/2015
Merry Christmas to all of the iHeartRadio fans out there! This week we're shaking things up a little bit. Rather than giving you a quick look at the top ten songs of the week, we're recapping the entire year in music with a look at the top ten songs of 2015. See how long your favorite songs spent on the chart, where they peaked, and more! Plus, tune in to the iHeartRadio Countdown station at noon on Christmas Day to hear Romeo, Chris Martin, Ariana Grande, and more share the top one hundred songs of the year.
So without further ado, the top song of 2015 was Mark Ronson and Bruno Mars' "Uptown Funk." Rounding out top 4 songs of the year are "Shut Up and Dance" by Walk the Moon at No. 2, followed Maroon 5's "Sugar" at No. 3 and "Want To Want Me" by Jason Derulo at No. 4. 
Check out the top 10 songs on iHeartRadio: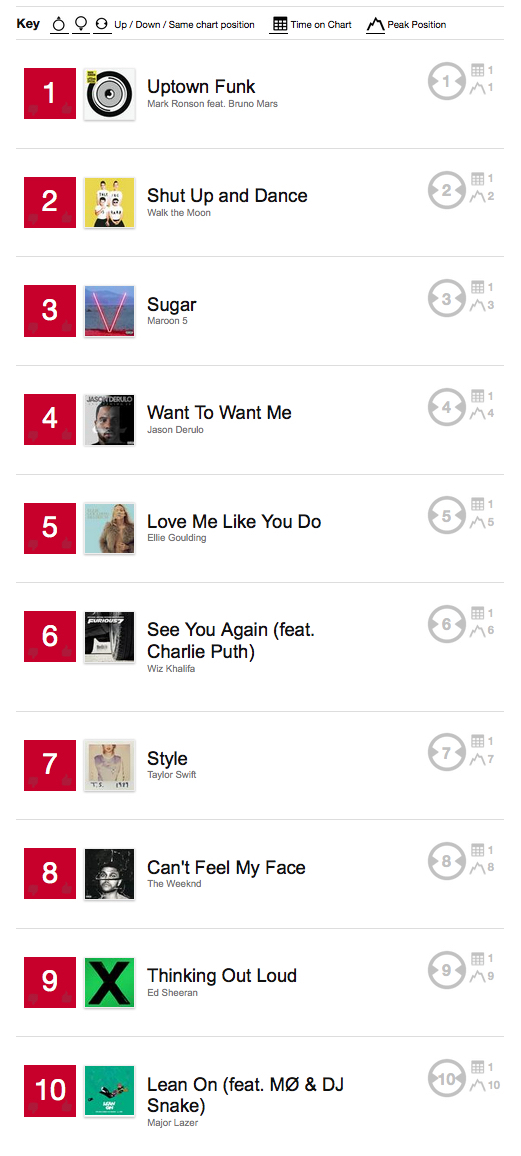 Want more? Click to view the top 100 songs of 2015.​​