Image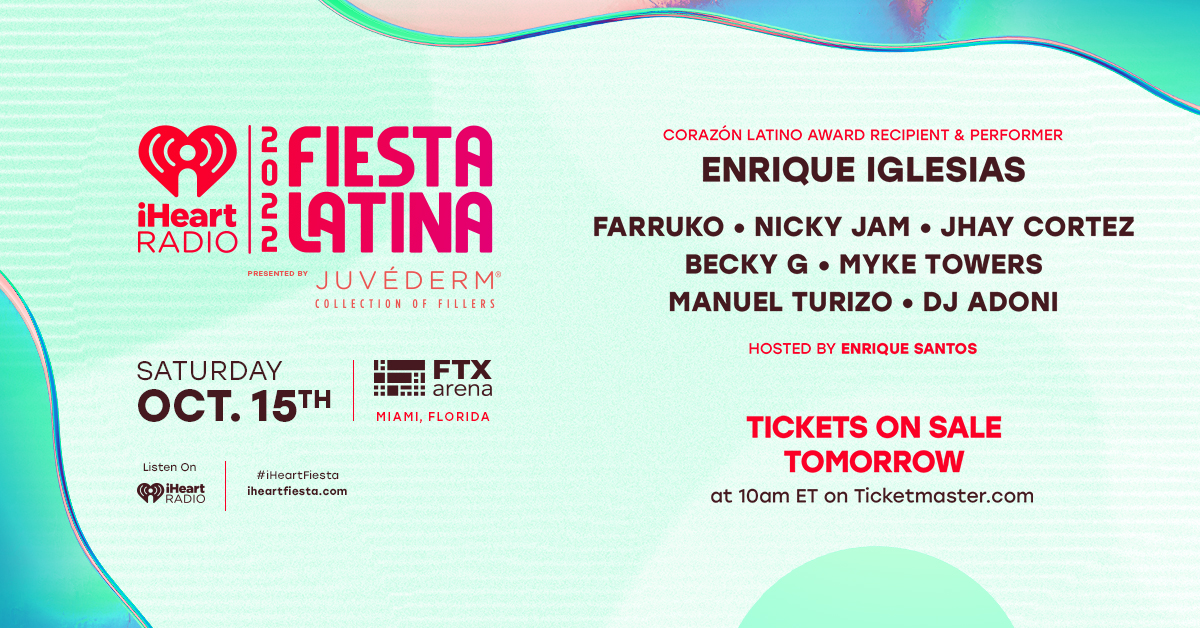 Artist of the Week: 2022 iHeartRadio Fiesta Latina
Latin music fans rejoice, tickets for the 9th annual 2022 iHeartRadio Fiesta Latina are on sale now! Get yours today at ticketmaster.com to celebrate the power of Latin music with a star-studded slate of live performances.
Returning to sunny Miami, Florida, the iHeartRadio Fiesta Latina presented by The JUVÉDERM® Collection is set to take place at the FTX Arena on Saturday, October 15, 2022. Fans can expect an incredible concert event bringing together the biggest names in Latin music to perform live on one stage for one night only!
Hosted once again by Enrique Santos, President and Chief Creative Officer of iHeartLatino and on-air talent for iHeartRadio, the night will also see Latin pop icon Enrique Iglesias receive the iHeartRadio Corazón Latino Award, which honors an individual who exemplifies their big heart through their selfless work enhancing the lives of the Latin community and beyond.
This year's lineup features the best of the best in Latin music, bringing together fans from all over for the opportunity to celebrate Latin culture. The unforgettable night will include performances from reggaeton and Latin pop singer Farruko, Latin trap artist Nicky Jam, Puerto Rican singer Jhay Cortez, Mexican-American singer Becky G, urbano songwriter Myke Towers, Manuel Turizo, La Republica Dominicana's DJ Adoni and iHeartRadio Corazón Award recipient Enrique Iglesias.
Don't miss out on these all-star performances and more––buy your tickets now on ticketmaster.com (available at 10am ET) or stream the event live on iHeartMedia's Spanish Contemporary Hits, Tropical, Regional Mexican, Tejano, and Spanish Oldies radio stations, and on iHeartRadio.com.
So, what are you waiting for? Grab your tickets today on ticketmaster.com and get ready for 2022's biggest Latin music celebration, only at the iHeartRadio Fiesta Latina!