Image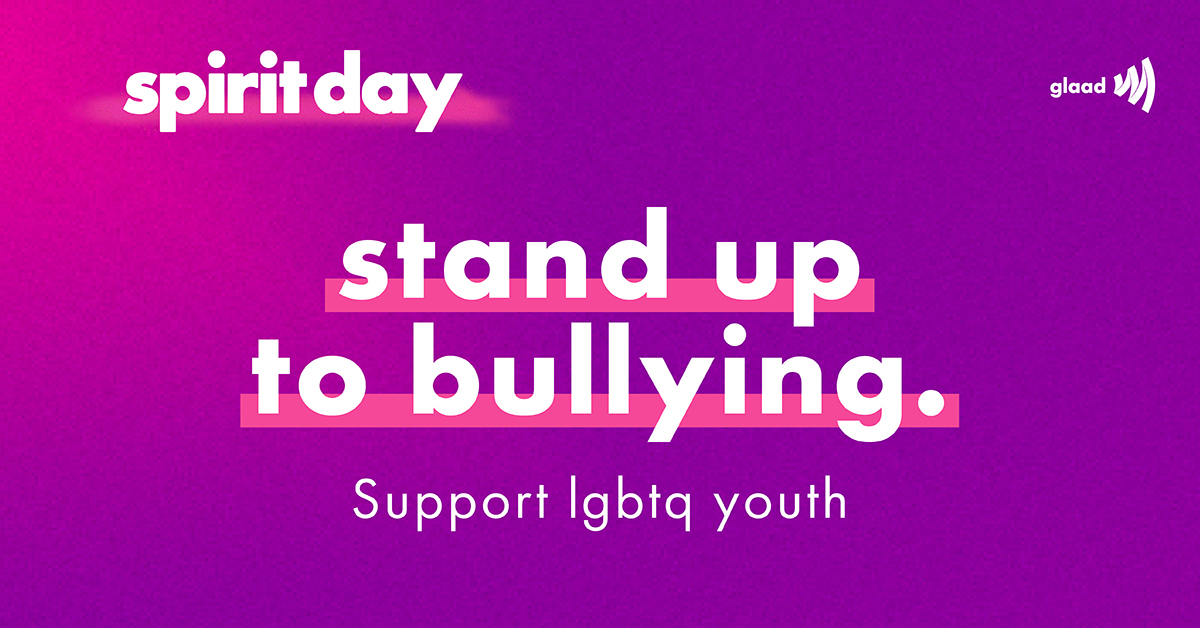 Celebrate Spirit Day and Support LGBTQ Youth with GLAAD
Guest blog by Tony Morrison, GLAAD's Senior Director of Communications.
For a seventh consecutive year, iHeartMedia proudly continues its partnership with GLAAD to support Spirit Day, the world's largest and most visible LGBTQ anti-bullying campaign. Today, October 19, millions will take a stand against the bullying of lesbian, gay, bisexual, transgender and queer (LGBTQ) youth. Along with iHeartMedia, artists joining GLAAD on this powerful day of action include Aly & AJ, Wayne Brady, Sterling K. Brown, Nick Carter, Idina Menzel, Maren Morris, Betty Who and VINCINT, just to name a few across every level of the music and entertainment industry.
The annual tradition was started in 2010 by GLAAD and then-high school student Brittany McMillan in memory of the LGBTQ youth who died by suicide. McMillan encouraged her friends to wear purple on a day in October -- a day that came to be known as #SpiritDay. Purple symbolizes spirit on the rainbow flag.
Each year since then, GLAAD, the world's largest LGBTQ media advocacy organization, organizes the annual united stand against bullying and show of support for LGBTQ youth known as Spirit Day. Since the inaugural #SpiritDay in 2010, GLAAD has organized hundreds of celebrities, media outlets, brands, landmarks, sports leagues, faith groups, school districts, organizations, colleges and universities in what has become the most visible anti-LGBTQ bullying campaign and united show of support for LGBTQ youth.
Today, LGBTQ youth, and especially trans and nonbinary youth, are experiencing a level of scrutiny in schools we have never seen before, leading to an environment rife with stressors beyond the peer-to-peer bullying of the past. From book bans to bans on trans youth in sports, to bathroom restrictions and teachers barred from using correct pronouns, the means by which a student can express themselves and see others like them are increasingly being challenged.  
GLAAD's 2022 Social Media Safety Index found severe harassment for LGBTQ users when compared to 2021. This anti-LGBTQ rhetoric then translates to real-life harm and has been cited as the drive behind many of the over 300 anti-LGBTQ bills introduced in states around the country this year alone, many of which target LGBTQ young people.  
Leading up to Spirit Day on October 19, iHeartMedia ran PSA's across its stations to highlight the impact bullying has on LGBTQ youth worldwide and encourage listeners to 'go purple' and take the Spirit Day pledge to unite against the bullying of LGBTQ youth of all backgrounds.
Do your part and take a stand against bullying and show support for LGBTQ youth by wearing purple, sharing your stories on social media and taking the Spirit Day Pledge now at glaad.org/spiritday/.