Introducing the iHeartRadio Extension for Google Chrome
Here at iHeartRadio, we're always uncovering new ways to make your streaming experience easier and more seamless. Today, we've launched an extra-convenient way for you to listen to your favorite songs and stations while you surf the web or work.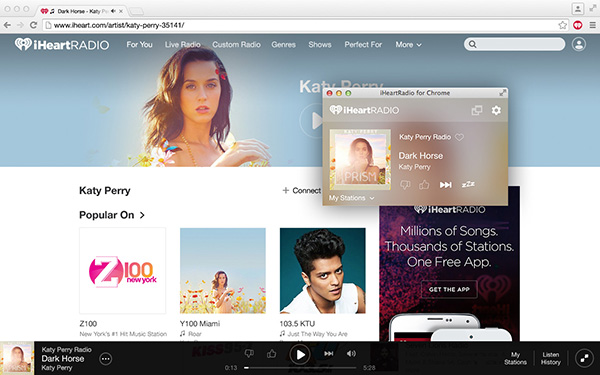 Thanks to our new iHeartRadio for Google Chrome extension, you can easily multitask and control your listening without having to navigate away from what's on your screen. The extension is built into Chrome's user toolbar, and once installed, you can click on it to open a web app that serves as a remote control for iHeartRadio. The extension gives you quick access to player functions including skip, thumbs up/down, favorites, scan and shows what's playing in a compact widget that can be docked anywhere on your screen. Plus, the new snooze feature (represented by "Zzz") allows you to quickly pause your stations to answer your phone or talk to a coworker, then automatically resumes playing after a few minutes!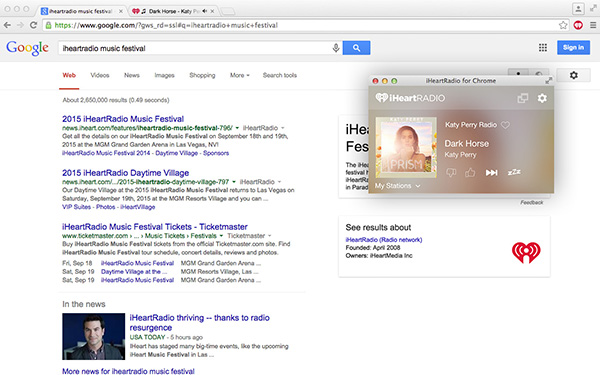 Eric Cogan, iHeartRadio's Associate Product Manager for Android, designed the extension from scratch during Hack Week, an annual developer competition focused on taking the iHeartRadio user experience to the next level. The extension was so popular and well-designed that it won first place in the five-day hackathon!
Download the hackathon-winning iHeartRadio for Google Chrome extension in the Chrome Web Store today.