Image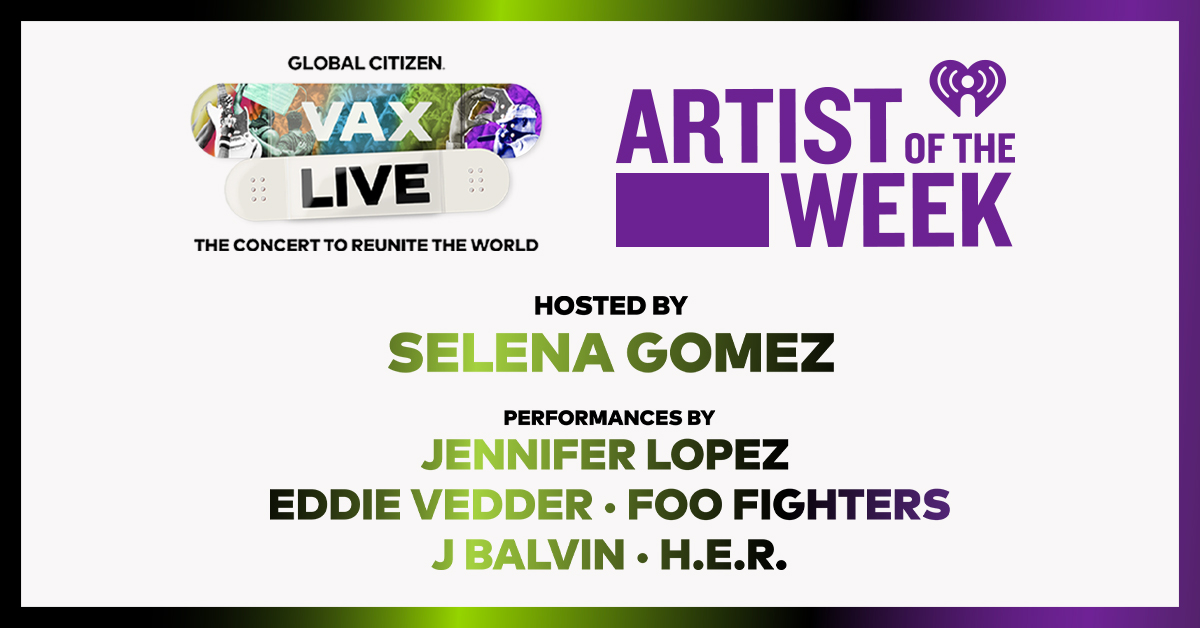 Artist of the Week: VAX LIVE: The Concert to Reunite the World
Get ready to reunite with your favorite music stars like Jennifer Lopez, J Balvin and H.E.R. for an unforgettable night of performances!
To celebrate the hope vaccines are offering for communities to come together once again, Global Citizen is hosting "VAX LIVE: The Concert to Reunite the World," executive produced by iHeartRadio.
This special live event is set to air on Saturday, May 8, at 8pm ET across iHeartRadio stations and on the iHeartRadio app. The concert will also be streamed live on YouTube and major television networks, including: ABC, CBS and FOX—so there will be no shortage of ways to watch all action!
Hosted by the one and only Selena Gomez, "VAX LIVE: The Concert to Reunite the World" aims to encourage and help people across the globe, especially medical workers and poorer countries, to receive the COVID-19 vaccines. The event will feature headline performances from some of music's biggest and up-and-coming stars, including Jennifer Lopez, Eddie Vedder, Foo Fighters, J Balvin and H.E.R.
There will also be appearances from Ben Affleck, Chrissy Teigen, David Letterman, Gayle King, Jimmy Kimmel, Nomzamo Mbatha, Olivia Munn, Sean Penn and Global Citizen campaign chairs: the Duke and Duchess of Sussex, Prince Harry and Meghan!
Global Citizen aims to end extreme poverty by 2030, organizing a mix of content and events to raise awareness of global issues. In a statement to Variety, Global Citizen CEO Hugh Evan revealed the show would be the first major music event in Los Angeles since the start of the pandemic. He also teased the lineup of performances: "I can tell you that J.Lo has a huge surprise in store, and I can tell you that H.E.R. is planning something super, super cool, involving hundreds of other people as well, which is really exciting."
It's a celebration you don't want to miss! So mark your calendars and get ready for "VAX LIVE: The Concert to Reunite the World," streaming live on Saturday, May 8, at 8pm ET!