Get Ready to Rock Out with Guitar Hero Live
Picture this, aspiring rock stars: you turn on your console (or your iOS device), grab your Guitar Hero Live guitar, pick your favorite song to jam to, and then play along with Weezer's concert from the iHeartRadio Theater Los Angeles. Nice dream, right? Well, starting today, that dream could be a reality — Weezer's latest concert, together with Rival Sons and Grizfolk and hosted by iHeartRadio's Paul Costabile, was filmed for the purpose of including it as a playable music set in GHTV, the game's 24-hour playable music video network!
Guitar Hero Live offers fans the opportunity to play along to videos of live shows from their favorite bands. And now, thanks to a partnership between iHeartMedia and Activision's Guitar Hero Live, you'll be able to rock out right alongside your favorite artists like Rivers, Patrick, Brian and Scott.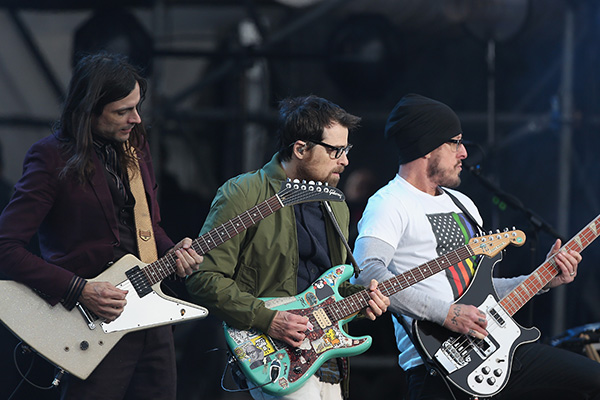 Photo by Tasos Katopodis / Getty Images
Guitar Hero Live will provide the adrenaline of performing a hit song to a real adoring crowd, all from the comfort of your home.
The game launches today, so get ready to jam out like you're on the big stage. Rock on!