My Favorites Radio: Your Very Own Radio Station
♫ I'm a little bit country
♫ And I'm a little bit rock 'n roll
♫ I'm a little bit of Memphis and Nashville
♫ With a little bit of Motown in my soul
If you're like us, one minute you're jamming out to The Weeknd and the next minute you're belting out Carrie Underwood. Or maybe you're chilling to some soft rock, but then you've got an urge for up-tempo rap. It's okay. You've got varied tastes. You're not alone — and iHeartRadio's got your back.
Today, iHeartRadio is introducing "My Favorites Radio​" — your very own radio station. That's right, this station is all about you! Now, all your favorite songs, artists and genres are mixed into a single station. And get this — the station gets even smarter and more personalized as you listen, favorite and thumb up different stations, songs and artists.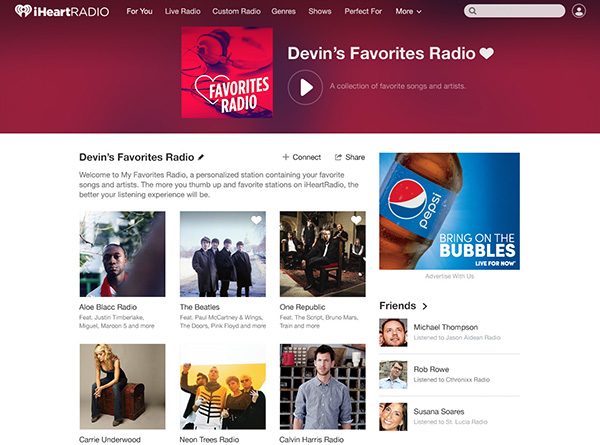 As My Favorites Radio learns more about your music taste over time, it'll add various bonus tracks into your mix to keep things fresh and interesting, making it easier than ever before to discover your new favorite song. Don't like a track? No problem; songs can be removed from your station as easily as they're added, with the simple click of a button.
Of course, this wouldn't really be your station if you couldn't name it and share it with your friends, right? My Favorites Radio can easily be branded with your signature flair and sent out to all your friends adoring fans via social media, email, text, etc. so everyone you know can listen to the station that's as unique as you are.
And finally, like everything iHeartRadio, My Favorites Radio is completely free. Listening to the music you love has never been easier. So what are you waiting for? Go forth and be your own DJ!
​​​