Image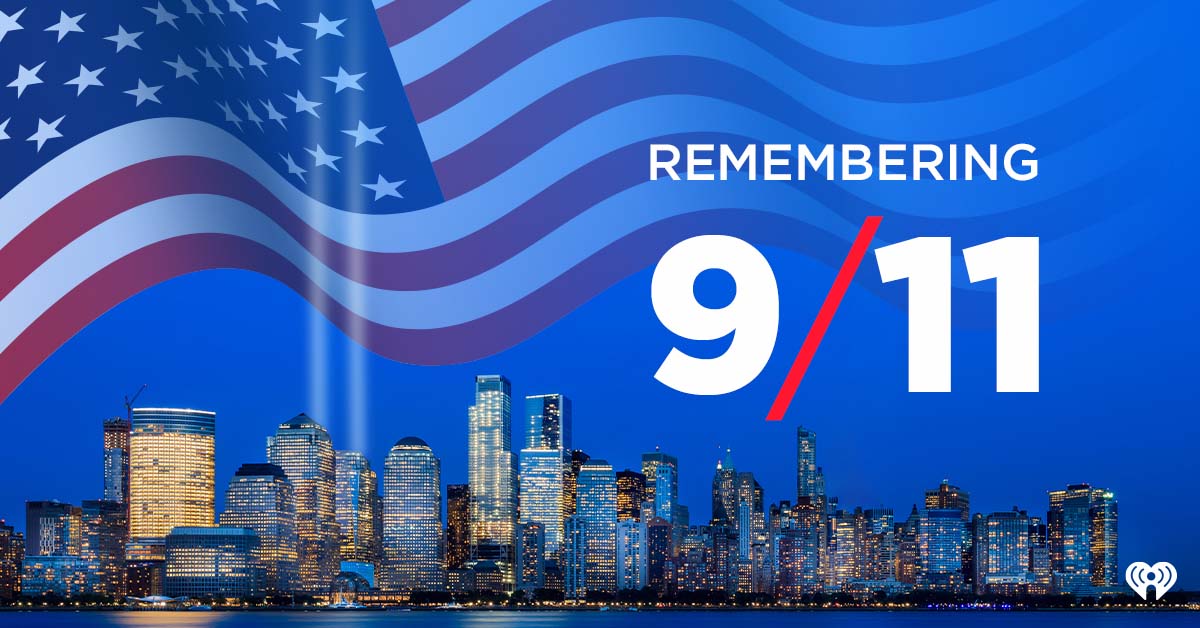 Pay Tribute to the Heroes of 9/11 on the 20th Anniversary With These 9/11 Podcasts
September 11 is a day we will never forget. Each year, Americans across the country unite in a day of observance to honor the 3,000 people who lost their lives in the tragic attacks on the World Trade Center.
On this year, the 20th anniversary since that tragic day, iHeartRadio hopes to honor the memory of those taken from us—as well as the heroes and survivors who persevered through this horrific event—by sharing stories of resilience of heroism that can help educate and unite us. From exploring the acts of courage on that day to how the country came together in the face of immense tragedy, we're proud to share three original podcast series paying tribute to 9/11.
Where were you on 9/11? As we mark two decades since the attacks, "9/11 Stories: Remembering September 11th, 2001" is a new podcast series from iHeartMedia New York's Q104.3, sharing the intimate stories of people from that tragic day. Join host Shelli Sonstein as she sits down to hear the stories of first responders, celebrities and the everyday people whose lives were forever altered by that day. Each episode features a first-hand account of what happened from guests such as New York Senator Kirsten Gillibrand, NYPD Chief Terry Tobin, actor Steve Buscemi and many, many more. Hear the incredible stories on "9/11 Stories: Remembering September 11th, 2001," streaming now on iHeartRadio.
The attacks of 9/11 forever changed America. It marked the beginning of the war on terror, united citizens in new ways and resulted in the creation of new agencies like the Department of Homeland Security. "9/11: Two Decades Later" is a new limited podcast series from iHeartMedia Los Angeles' KFI AM 640, hosted and produced by Murrow Award-winning investigative journalist Steve Gregory and co-produced by Jacob Gonzalez. The limited series explores the fallout of the 9/11 attacks and the actions taken by decision-makers to make Americans safer. Do airport checkpoints work? Has the Patriot Act made us more secure? Join host and investigative journalist Steve Gregory as he talks to those behind-the-scenes in the inner-sanctum of U.S. agencies that made life-changing decisions in an attempt to answer the question: is America safer today than 20 years ago? Guests include former Assistant Secretary of Defense for Public Affairs at the Pentagon, Victoria Clarke, who was inside the Pentagon when it was struck by American Airlines Flight 77. Other guests include one of the architects of the TSA, an air traffic controller who was working on 9/11, a former Special Agent in Charge of the Federal Air Marshal Service for Los Angeles, and one of the very first employees hired at the TSA. Listen to the trailer for "9/11: Two Decades Later" now on iHeartRadio, then hear the series premiere on September 11.
"Missing on 9/11" is an iHeartRadio Original podcast series, hosted by Jon Walczak, a New Orleans-based investigative journalist, that chronicles the mysterious disappearance of Dr. Sneha Anne Philip. On September 10, 2001, security cameras captured her last known whereabouts shopping just one block from the World Trade Center. As chaos ensued the next day just 900 feet from Sneha's Manhattan apartment: What happened to Sneha? You can hear "Missing on 9/11" on iHeartRadio now to learn more about Sneha's tragic story.
Take a listen to these special shows and learn more about the fallen, the heroes and the stories of resilience and perseverance of 9/11 survivors. And don't forget to take a moment of silence, as well as spread kindness into the world today in loving memory of those we lost and the families they left behind.