Image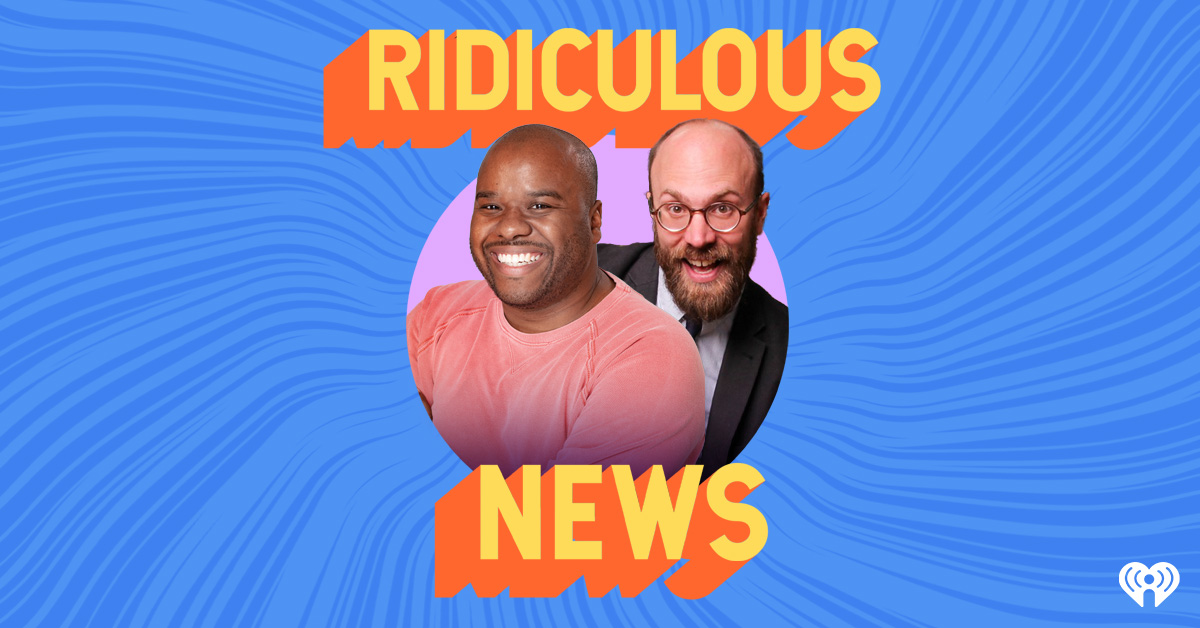 "Ridiculous News" Joins the Ridiculous Podcast Slate on iHeartRadio Today!
Ready for even more ridiculousness? Today, a brand new show from the creators of the popular "Ridiculous History" podcast is joining the iHeartRadio Ridiculous podcast slate: "Ridiculous News!"
With episode one launching today, "Ridiculous News" is not your ordinary news show. This wild podcast will cover all of the stuff you didn't even know was news—from deep and hidden stories, to funny and crazy headlines, to tidbits that are just downright ridiculous. Hosts Bill Worley and Mark Kendall will be sure to keep you on your toes (and in the know), so tune into the first episode now on iHeartRadio!
"Ridiculous News" joins additional podcasts from the iHeartRadio Ridiculous podcast slate. Ben Bowlin, host of "Ridiculous History" says whether talking about romance, crime, the news or history, there is one thing for certain: humans do ridiculous things—and the Ridiculous Universe is here to shed some light on it!
"Learn more about (in)famous stories of outrageous relationships and bizarre lover's spats with Ridiculous Romance. Experience breathtaking, hilarious tales of heists and scoundrels with Ridiculous Crime, guaranteed to be 99% murder-free. Dive deep into the latest headlines and comedic, in-depth pop-culture analysis with Ridiculous News, all brought to you by the creators of Ridiculous History," added Bowlin. "New episodes every week, available now, wherever you find your favorite shows."
Check out the shows below already out to get your fill of all things ridiculous:
Need a history lesson? "Ridiculous History" has got you covered. From the minds behind "Stuff They Don't Want You To Know," Ben Bowlin and Noel Brown explore some of the craziest and weirdest stories spanning across human civilization in this comedy history podcast. You'll hear it all—from busting myths about U.S. presidents to investigating the soccer game that may have sparked a war, "Ridiculous History" dives deep into the beautiful, brutal and oftentimes ridiculous history of humankind. Listen to these crazy stories and more from "Ridiculous History" on iHeartRadio, with new episodes debuting twice a week!
Up next, this true-crime podcast series is for fans of wild crime stories—without all the blood and guts. Join Zaron Burnett and Elizabeth Dutton each Tuesday and Thursday as they tell stories about the absurd—and true—side of criminality on "Ridiculous Crime." You'll hear outlandish tales, like the one about the man who decided to kidnap Frank Sinatra's son, or the time rock icon Billy Idol went so wild in Bangkok the Thai Army had to be called in. Each episode will feature thrills, chills, laughter and adventure as Zaron and Elizabeth share a new, ridiculous story—99% murder-free guaranteed. The first episode launched February 15th, so tune in and catch up on all the stories from "Ridiculous Crime," now streaming on iHeartRadio!
Fans of crazy love stories, rejoice! This last show in the iHeartRadio Ridiculous podcast slate is for you. Drawing on the themes from "Ridiculous History," "Ridiculous Romance" dives into the weird and wonderful relationships across history. Each episode, real-life spouses Diana and Eli Banks share a new story about a pair of wild and interesting romantic partners spanning from the Stone Age to the Digital Age. Whether it's an endearing couple like Hollywood sweethearts Goldie Hawn and Kurt Russell, or a love so deadly with the Lonely Heart Killers, "Ridiculous Romance" is sure to keep you captivated from episode one. Tune into new episodes of "Ridiculous Romance" dropping twice weekly on iHeartRadio!
Check out the newly released "Ridiculous News" and other shows from the iHeartRadio Ridiculous podcast slate on iHeartRadio today!