Tanya's Take on: Sofia Carson
By: Tanya Rad

You guys know I love sharing new music discoveries, and especially love introducing you to artists that I love. Today, I want to introduce you to someone extra special: Sofia Carson.
You might know her as Evie from Disney's "Descendants", but she's now making moves in the music biz and just released her debut single "Love is the Name"… and I love it!
https://www.youtube.com/watch?v=fuyVJYP7GJk
One of the reasons I love Sofia and will support her forever is her giant heart. I've had the pleasure of getting to know her this last year and been able to witness firsthand her love of people. She loves her fans so much, and I can genuinely tell she appreciates their love and support: she's not just smiling for a photo, her heart is beaming with joy!
I've also seen her do things off camera that have melted my heart. Sofia has spent time in the Seacrest Studio at Children's Hospital of Orange County, spreading love and joy and just being so kind and nurturing!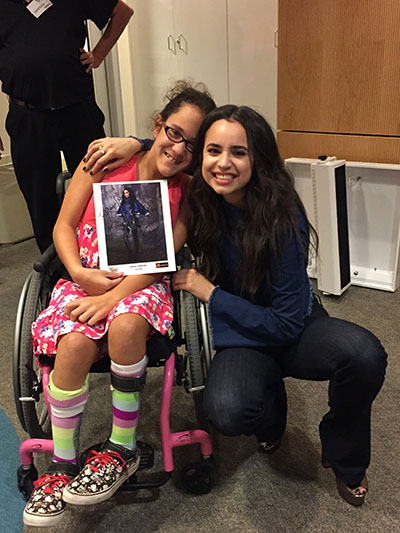 To me, an artist that uses their fame to brighten someone else's day will always win in the end…because people may forget what you say or do, but they will never forget how you make them feel.
Sofia will be performing her single "Love Is The Name" at the Radio Disney Music Awards April 30th and I will be there at her side cheering her on!
I hope you all find Sofia and follow her along on her journey…because it is sure to be a beautiful one!
For more from Sofia, check out this video of "10 Questions with Tanya: featuring Sofia Carson":