Visitor Pass: Echosmith
By: Miro Sarkissian, Content Producer
As a content producer in iHeartMedia's LA office, I've had my fair share of run-ins with my musical heroes—including the time I literally bumped into will.i.am while rushing to catch the elevator. Talk about the ultimate embarrassing moment in front of one of the coolest guys in the business! Insert blushing emoji here.
There are so many things about my job that I love, but one of things I enjoy the most is working with up and coming artists. It's amazing to watch their careers take off and to see their dreams actualized. This is especially true when they're as genuine and cool as the kids in Echosmith. (I promise, that's the last "Cool Kids" pun.)
Over the past year or so, I've worked with Jamie, Noah, Graham and Sydney Sierota nearly a dozen times. I'm usually in "work-mode" and behind the camera, but I've still been able to get to know them a bit. I've also seen them grow from being the test band in 2013 at the iHeartRadio Theater Los Angeles—where they played without an audience for hours while the crew checked and adjusted the lights and cameras—to playing in front of 22,000 cheering fans at KIIS FM's Wango Tango earlier this month.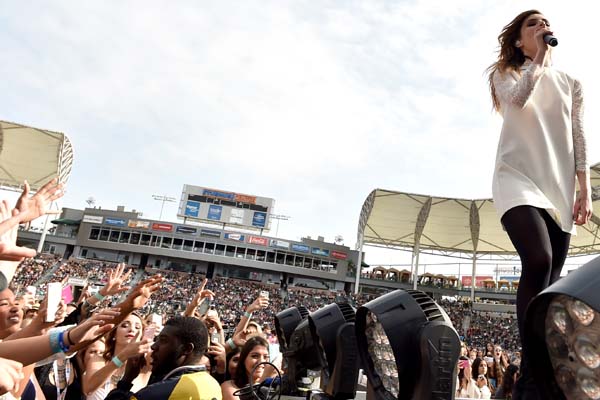 Photo by: Kevin Winter/Getty Images for 102.7 KIIS FM's Wango Tango

I met Echosmith for the first time in May of 2014 when they came in studio to film a quick, fun video I got to produce. During the shoot, I asked them about the cool bikes they use to get around while on tour. We even talked about having races in the hallways of the studio the next time they stopped by. That never did happen…maybe next time?
Over the next year, I ended up seeing Echosmith several more times. We'd always pick up right where we left off, and I'd get the latest on their travels and shows around the world.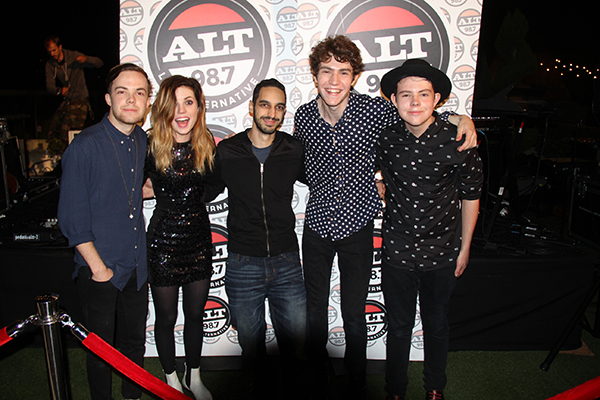 Photo by: Doug Hall

One of my favorite times with Echosmith was when we hung out at the Life is Beautiful Festival in Las Vegas. It was a pool party in the middle of summer—not too shabby! In doing some research there, I found out that Sydney likes a strange snack: tortilla chips with honey ham! Which, naturally, you've got to wash down with virgin piña coladas. Hey—don't knock it 'til you try it!
When they're not consuming quasi-Mexican food, the Echosmith kids also love sharing it with the world: on Cinco De Mayo, the band ran into KIIS FM's JoJo Wright at Chipotle and, because they're awesome, they sent him and his team Chipotle for dinner the day before Wango Tango! Anyone who gifts Chipotle delivery is automatically awesome in my book.
At Wango Tango, Echosmith played a stellar set in front of their hometown crowd complete with confetti-filled balloon balls bouncing around in the venue.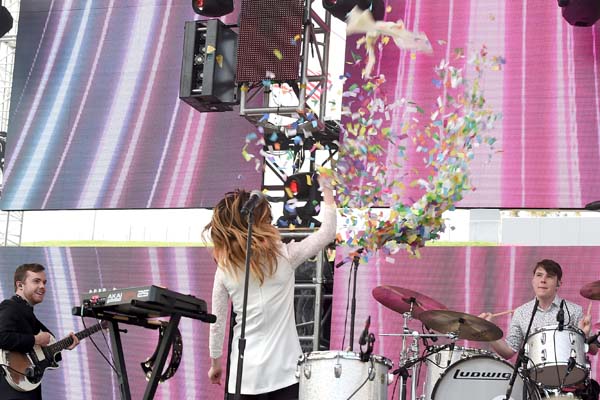 Photo by: Kevin Winter/Getty Images For 102.7 KIIS FM's Wango Tango

Backstage, the band joked about me joining in on their family brunch plans for Mother's Day, since I see them so often. I do see them often, and I don't mind at all: they're great on and off the stage, and seeing them grow as a band to be able to own festival stages like they did at Wango Tango has been one of my favorite parts of working at iHeartMedia.
So what's next for Echosmith? Well, I'm looking forward to seeing them rock the
iHeartRadio Summer Pool Party
next weekend! Check them out for yourself on the
Yahoo Live stream
at 8 p.m. PT on Saturday, May 30. They're definitely going to blow the crowd away.
​
You can also

go here

to
enter for a chance to win a V.I.P. trip to the iHeartRadio Summer Pool Party, where you can see Echosmith (and more!) in person.
Banner p
hoto by: Gabriel Olsen/Getty Images For 102.7 KIIS FM's Wango Tango
Thumbnail photo by: Jason Merritt/Getty Images for iHeartMedia