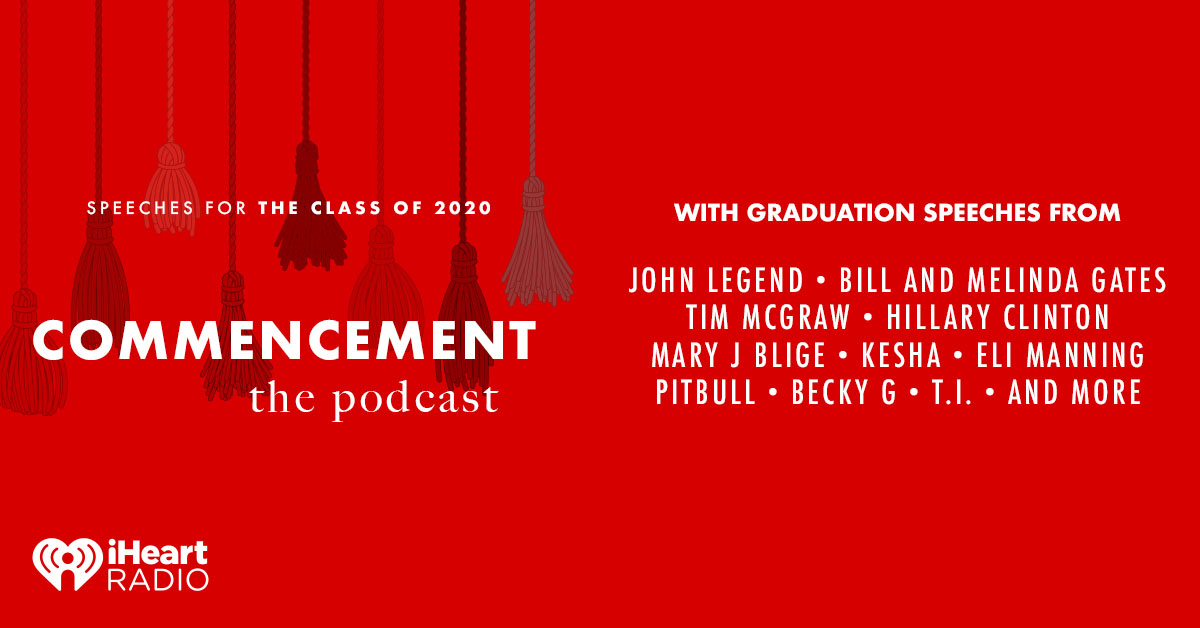 For All the 2020 Graduates Whose Graduation Ceremony Was Cancelled, iHeartMedia Is Launching "Commencement: Speeches for the Class of 2020"!
When college and high-school campuses closed earlier this year, students begrudgingly left their friends, teachers and classrooms behind and were forced to finish their courses via virtual learning. Although this switch was difficult for most, it was especially hard for the high-school and college seniors who were left without a graduation ceremony. To help these 2020 graduates celebrate, iHeartMedia has tapped some of the most inspiring philanthropists, business leaders, artists and musicians around to create "Commencement: Speeches for the Class of 2020." 
Expect words of wisdom from the likes of former Secretary of State Hillary Clinton, Goldman Sachs CEO David Solomon, NPR correspondent Guy Raz, MSNBC anchor Stephanie Ruhle, Epic Records CEO Sylvia Rhone, comedian Chelsea Handler, restaurateur David Chang, business leader and co-CEO of Ariel Investments Mellody Hobson, superstar athletes like Abby Wambach and Eli Manning and musicians like John Legend, Kesha, DJ Khaled, Pitbull, Tim McGraw, Khalid and Halsey. 
College graduates, in particular, are entering the workforce at a truly difficult time: We're still battling the COVID-19 pandemic, and the economic aftermath is predicted to be dire. Needless to say, they could use all of the support and encouragement they can get. With this in mind, iHeartMedia decided to add more speeches from thought leaders like Bill and Melinda Gates, Mary J. Blige, singer-songwriter Becky G, actor and gender equality ambassador Freida Pinto, comedian George Lopez, author John Green, T-Mobile CEO Mike Sievert and Apple CEO Tim Cook.  
"Commencement: Speeches for the Class of 2020" will also feature speeches from leading iHeartRadio on-air personalities and podcast hosts, like Ryan Seacrest, Enrique Santos, Angie Martinez, Bobby Bones, Jake Brennan, Angela Yee, Woody and J Cruz. From the safety of their homes, each of these speakers will share sage advice and heartfelt stories to motivate graduates—despite the ongoing and unprecedented circumstances. 
This podcast released all of its featured speeches today, May 15th, and they can be found on iHeartRadio or wherever else podcasts are available. In addition, all of iHeartMedia's broadcast radio stations will be featuring clips from "Commencement: Speeches for the Class of 2020" every hour and all weekend long. This celebration will culminate on Sunday, May 17th, with a series of 30-minute on-air commencement specials on all music stations and 60-minute specials on all talk stations. These specials will broadcast on every station between 7 P.M. and 12 A.M. local time. 
Head over to iHeartRadio to check out "Commencement: Speeches for the Class of 2020" and all of the inspiring speeches—or, tune into your local iHeartRadio broadcast station to hear bits and pieces all weekend long. Congratulations to the class of 2020: We're happy to help you celebrate all of your achievements!