Image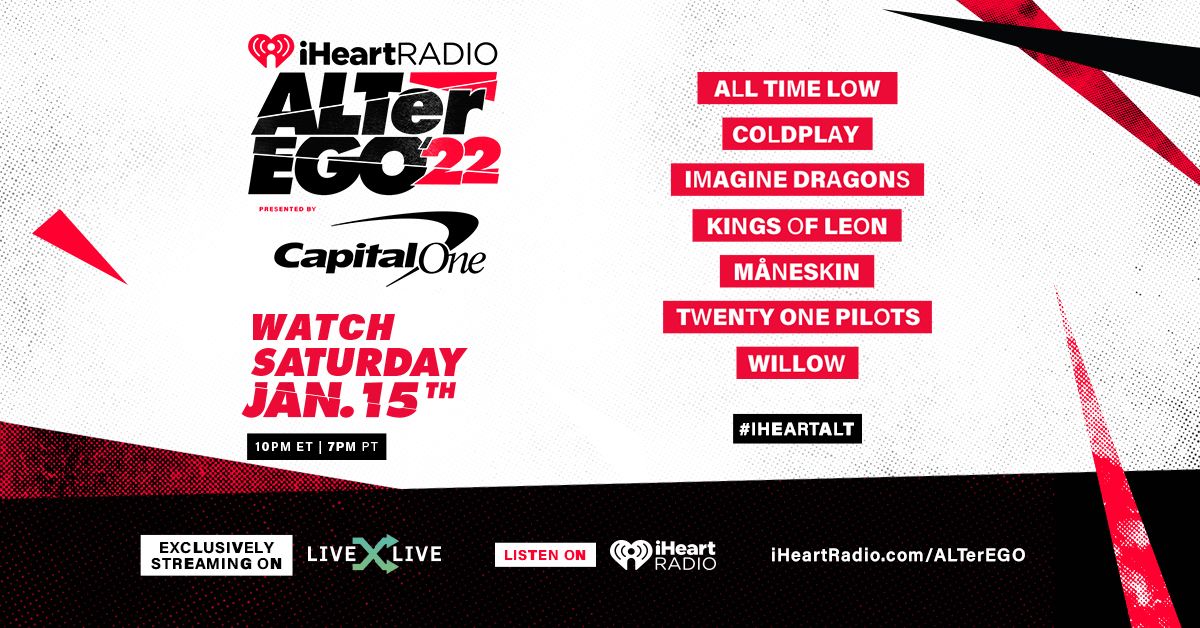 Artist of the Week: 2022 iHeartRadio ALTer EGO
The time has finally come! Just one more sleep until alternative rock's biggest names take the stage live at The Forum in Los Angeles for this year's iHeartRadio ALTer EGO on Saturday, January 15th.
Whether you know every Coldplay song by heart or you're a long-time Willow stan, the 2022 iHeartRadio ALTer EGO will not be one to miss, celebrating everything alternative rock for music fans to enjoy. The star-studded lineup includes performances from Coldplay, Imagine Dragons, Twenty One Pilots, Kings of Leon, Willow, All Time Low, Måneskin and more. And it's all hosted by Woody of iHeartRadio ALT 98.7's nationally-syndicated "The Woody Show."
Ready to rock out? Join in on the music-packed fun by tuning in at 10pm ET / 7pm PT to watch iHeartRadio ALTer EGO via an exclusive livestream on LiveOne on livexlive.com. Over 75 Alternative and Rock iHeartRadio stations will also broadcast the event live in their local markets and on the iHeartRadio app.
Don't miss a second of this truly rock-tastic night. Follow along with the hashtag #iHeartALT2022 on Twitter, Facebook, Instagram and TikTok to receive updates, exclusive content and more throughout the show.
So set your reminders and get ready to rock out to the biggest artists and bands in alternative rock live on one stage. And if you really can't wait until tomorrow to unleash your inner rock star, check out the iHeartRadio ALTer EGO playlist to listen to the show's top headlining artists!