Image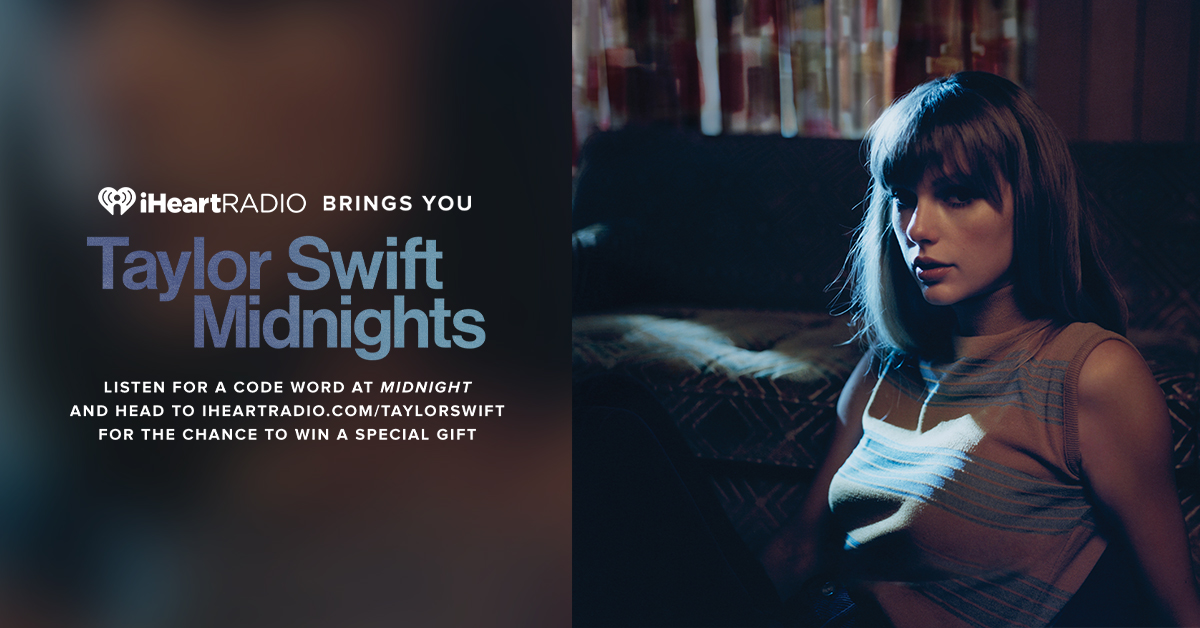 Artist of the Week: Listen to Taylor Swift's New Album "Midnights" on iHeartRadio for the Chance to Win a Gift from Taylor!
Taylor Swift's tenth studio album "Midnights" is here – and iHeartRadio is giving fans the chance to win a special gift from Taylor!
In honor of the album's theme, iHeartRadio stations across the country will be playing "Midnights" in its entirety at exactly midnight starting on October 21. "iHeartRadio Brings You Midnights with Taylor" runs through October 26th, and each night fans can listen for a special code word to enter at iHeartRadio.com/TaylorSwift for the chance to win one of six special gifts signed by Taylor!
To listen for the code words, fans can tune into iHeartRadio stations across the country, as well as iHeartRadio's Hit Nation and Today's Mix stations on the iHeartRadio app. 
In addition to the full album and the special code words, fans will hear about some of the stories behind the songs shared by Taylor herself. 
"Midnights" showcases 13 new songs, including a guest appearance from Lana Del Rey. In a message posted to social media announcing the album, Taylor described of her new music:
"We lie awake in love and in fear, in turmoil and in tears. We stare at walls and drink until they speak back. We twist in our self-made cages and pray that we aren't — right this minute — about to make some fateful life-altering mistake. This is a collection of music written in the middle of the night, a journey through terrors and sweet dreams. The floors we pace and the demons we face. For all of us who have tossed and turned and decided to keep the lanterns lit and go searching — hoping that just maybe, when the clock strikes twelve ... we'll meet ourselves. Midnights, the stories of 13 sleepless nights scattered throughout my life, will be out October 21. Meet me at midnight."
Listen to "Midnights" on iHeartRadio.