Employee Playlist of the Month: Heidy Garcia
Sometimes, you just have to hit "shuffle" and let the music do its thing! That's exactly what iHeartMedia Customer Operations' Heidy Garcia loves to do when she's in charge of the music during work. Whether it's jamming to Q-Tip, rapping along with Snoop Dogg, or getting down with some Marvin Gaye, this month's playlist is fit for any mood that hits. Take a listen to Garcia's go-to playlist below!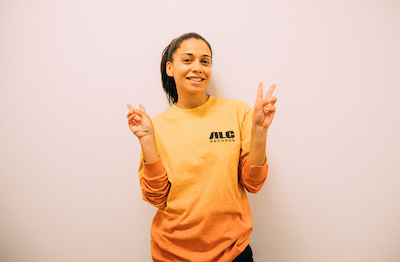 How come you choose the songs on your playlist?
They're all gems that I either discovered when I was younger or as an adult through sampling Hip Hop. Just hit shuffle and enjoy!
When do you listen to this playlist most?
It's my go-to any time I'm tired of whatever albums I have in my current rotation. Also, anytime, it's my turn to be the DJ for our corner. 
Who is your dream artist to meet and why?
Um dead or alive? I would've loved to experience a live show by Miles Davis or John Coltrane. Alive: I'd love to pick the brains of some of my favorite hip hop producers like Madlib, The Alchemist, or DJ Premier.     
Can you share your most memorable music moment experience? 
Oh sheesh! Most definitely seeing Nas at Citi Field perform Illmatic back in 2013. The energy in that stadium was incredible. I rapped my heart out!
What is the best part about working at iHeartRadio? 
Without a doubt, the people. Love the people I work with. Shout out to our corner!
A fun fact about myself is…
I randomly sing like a Disney Princess.
​
iHeartRadio Employee Playlist of the Month: Heidy Garcia​​​​​​​​​​​​​
​​​​​​​​​