Introducing Christina Grimmie, Rising Star
Hey everyone—Christina Grimmie here, the winner of Macy's iHeartRadio Rising Star competition 2015! Woo hoo! :)
https://media.iheart.com/player/embed.html?autoStart=false&useFullScreen=true&mid=26097740&siteid=8169&startButtonColor=0xA33335&share=http://news.iheart.com/media/play/macys-iheartradio-rising-star-christine-grimmie-26097740/
I really have no words to express how grateful I am, and I'm honestly a little surprised to have come out on top. After all, so many talented people were involved in this competition! All I know is that I couldn't have done it without my incredible and persistent fans. Team Grimmie has always been a force to be reckoned with. I went into this competition kind of skeptical, not sure how on earth could I beat out the 24 other amazing artists with crazy fan bases. But Team Grimmie voted and supported me every day like the little soldiers that they are—they are the main reason that I do what I do, and I honestly can't thank them enough!
I guess I should back up a second to say: for those of you that don't know much about me, I started off as a YouTube cover singer and piano player and started releasing my own music shortly after. Then, last year, I went on The Voice and made it all the way to third place! The thing that I think sets me apart from most people is that I only aspire to get better at what I do, whether that's singing or making videos or performing live on stage. When performing, I love getting the crowd involved at my shows. In my book, if you're not having conversations with the audience during your show, you're doing something wrong. ;)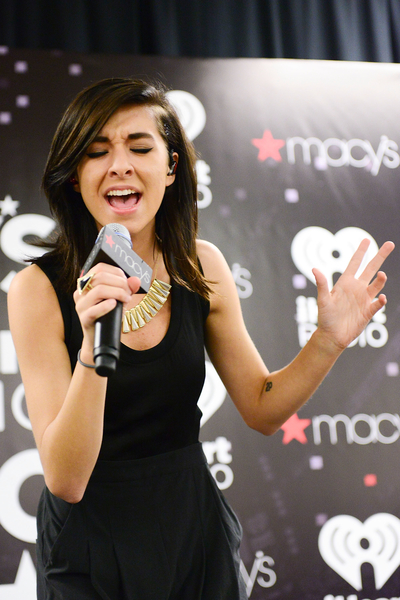 When I'm not on stage or writing music, I play video games and read manga. I'm kind of a dork—and also a total goofball. Being able to laugh at yourself sometimes definitely makes life easier.
Anyway, I'm really looking forward to getting on the iHeartRadio Music Festival stage in September and giving the audience the best dang show they've ever seen! In the meantime,  here's my newest single. I hope you like it!
And last but not least: thank you Macy's, thank you iHeartRadio—just thank you for everything.
Christina Grimmie will take the stage alongside the biggest acts in music at this year's iHeartRadio Music Festival in September. Tickets will be available here later this summer. Until then, hear exclusive interviews and new songs from Christina Grimmie now on mstyleradio.
Image & thumb by: Lisa Lake/Getty Images for iHeartMedia​​​​​​​​​