The Official iHeartRadio CES 2016 Newsfeed
We've got a lot of exciting announcements rolling out at the 2016 Consumer Electronics Show (CES) in Las Vegas. Stay tuned this week for up-to-the-minute coverage of the latest iHeartRadio news!
Universal Music Group and iHeartMedia are coming together to provide music fans with a fully immersive new type of concert experience through cutting-edge virtual reality technology. Beginning in April 2016 with the iHeartRadio Music Awards, all of iHeartRadio's tentpole live events will feature a VR experience to give fans unprecedented access to their favorite performers. In addition, Universal Music Group and iHeartMedia will be teaming up for the iHeartRadio VR Concert Series, four shows by four individual artists, shot and distributed in their entirety in VR at the iHeartRadio Theater in Los Angeles, California. ​​​​​​​
Big news for our neighbors to the north — iHeartRadio is coming to Canada! In an exclusive partnership with Bell Media — Canada's largest radio broadcaster, with 106 licensed radio stations in 54 markets across the country — iHeartRadio will provide Canadians with instant access to live radio via Bel Media's broadcast channels as well as digital-only radio stations across mobile, auto dashes, tablets and smartphones, gaming consoles, wearables, and more. Not only that, but Bell and iHeartRadio will also bring iHeartRadio-branded events to Canada, spreading the power of live. ​​​​​​​
1/6/2016, 3am EST — iHeartRadio to Integrate with Alpine Connect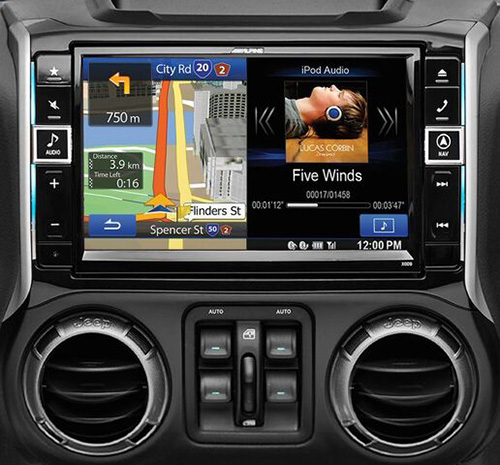 We're happy to announce our latest iHeartRadio automotive integration, on Alpine's newest infotainment service, Alpine Connect. Launching in April 2016, this service will be included in a variety of Alpine's Restyle aftermarket head unit models. The iHeartRadio app will give listeners access to the full range of live radio, custom music, and podcast stations, in addition to their Favorites and listening history. ​​​​​​​
1/5/2016, 10pm EST — iHeartRadio to Integrate With Mozilla Firefox OS
We're ready to welcome the first-ever iHeartRadio app for Firefox OS TVs. This app, built from iHeartRadio's HTML5 player, will be available through a new Firefox OS update later this year on DX900 UHD televisions. The iHeartRadio app will include users' favorite features like Custom Stations, navigation of the My Stations section, and search for live stations, artists or podcasts all in one place. iHeartRadio for Firefox OS will also let users view album art and screensavers on the full screen.​​​​​​​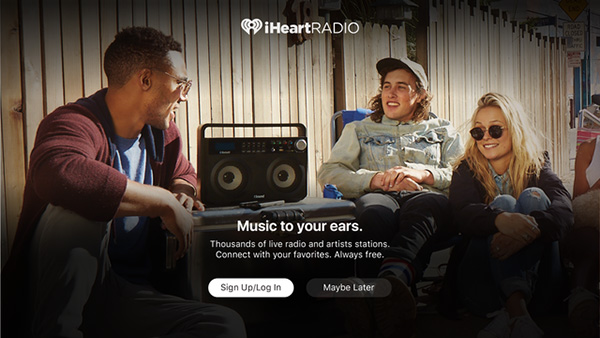 We're thrilled to announce iHeartRadio's first-ever integration into Apple TV. The integration will allow Apple TV users to experience all of the core elements of the iHeartRadio app including access to thousands of Live Stations, Custom Stations (based on a song or artist search) and podcasts. Both registered and unregistered users of iHeartRadio will be able to play Live and Custom Radio, view For You recommendations, save favorite stations and access iHeartRadio's newest feature — My Favorites Radio — which combines a user's favorite stations and artists into one station. The new interface also features sleek design elements optimized for the Apple TV viewing experience.​​​​​​​
1/5/2016, 1pm EST — iHeartRadio Announces Two Integrations with Samsung
Today at CES, we unveiled two new integrations with Samsung — Multi-Screen, a service that will allow iHeartRadio to be seamlessly cast to various Samsung devices, and Gear S2, Samsung's latest wearable smartwatch. The integration with Multi-Screen will allow users of the iHeartRadio for Android and Tizen apps to cast the iHeartRadio experience to Samsung speakers and televisions. While the Gear S2 integration will give these smartwatch users access to iHeartRadio's Live and Custom Radio and Podcasts with an easy rotation of a watch bezel users have have grown to love. ​​​​​​​
1/5/2016, 12pm EST — iHeartRadio Integrates with LG Smart ThinQ
Today at CES, we unveiled a new integration into LG's Smart ThinQ™ Hub. The unique new smarthome hub from LG will allow users to listen to both Live and Custom Stations through iHeartRadio's app, automatically recalling the user's favorites and preferences. The partnership with Smart ThinQ provides a simple and easy listening experience, where users can simply click left or right to access multiformat content — from local stations to other favorites — with just the push of a button.​​​​​​​
1/4/2016, 12pm EST — iHeartRadio Now Available with Play-Fi
We're happy to announce a new iHeartRadio integration with DTS Play-Fi that will allow listeners with the free Play-Fi app on their iPhone, iPad, Android phone or tablet to stream their favorite iHeartRadio Live and Custom stations to any Play-Fi enabled speaker via Wi-Fi. iHeartRadio registered users will be able to enjoy their favorite tunes around the house in the highest-quality, lossless audio to the widest selection of speakers in the whole-home streaming category.​​​​​​​​​​​​​​​​​​​​