Image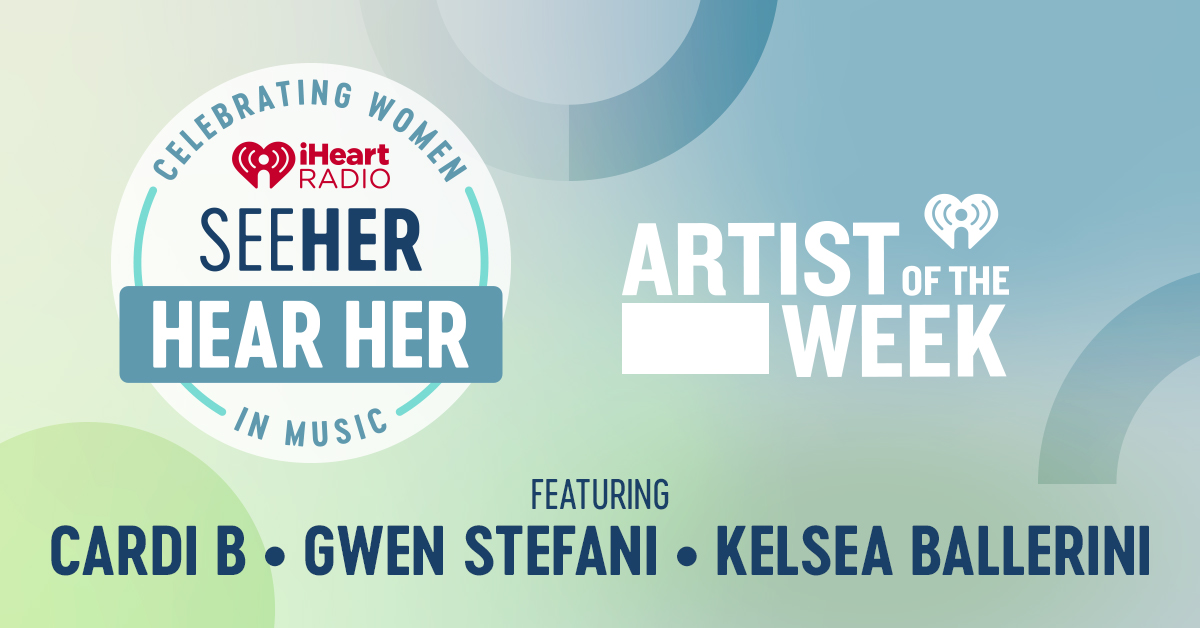 Artist of the Week: Cardi B, Gwen Stefani and Kelsea Ballerini
Our trio of featured artists this week are taking "girl power" to a whole new level. Celebrate the awesomeness of women this Women's History Month and rock out to the beat of the stories and sounds of Cardi B, Gwen Stefani and Kelsea Ballerini!
This trailblazing triple threat came together on International Women's Day for a special one-hour event celebrating gender equality. Catch the "iHeartRadio Presents SeeHer Hear Her: Celebrating Women in Music" special, airing on-demand on iHeartRadio's YouTube and Facebook through March 14, to see these three music superstars share inspiring stories about their own career journeys, the mentors who encouraged and influenced them along the way and the importance of activating other women to pursue their own dreams.
Gwen Stefani is a pop icon, but did you know she found her voice while performing in a high school talent show with friends? That group of friends would go on to become the legendary ska band No Doubt. In the special, Stefani explains how she found her most authentic voice in songwriting after penning the all-time great girl-power anthem, "Just a Girl."
"I started writing songs. I didn't even know that I could," she said. "Nobody taught me. I don't know where they came from. It wasn't until I realized I had this gift to write my feelings out that I started feeling empowered."
In "iHeartRadio Presents SeeHer Hear Her: Celebrating Women in Music" special, we also discovered that Cardi B didn't always have the confidence you see today. In fact, Cardi revealed she was even shy about reaching out to fellow lyricist Megan Thee Stallion about collaborating. The No. 1 hit-making rapper also explained how the women around her inspired her to keep pursuing her dreams of becoming an artist, and to keep speaking up today.
"They used to put in my head, 'You gotta see the bigger picture,'" Cardi said. "They grew me to be more aggressive. [And told me] 'You gotta fight for your sh*t.'"
And last but not least, the special revealed who inspired the talented Kelsea Ballerini to pursue a music career. It was actually none other than pop star Kelly Clarkson, who Ballerini saw in concert in 2005 when she was only 13-years-old.
"This particular show, the AC in the arena was out, so it was just so hot. She's on stage. She's barefoot. She's sweating. She's sounding better than the album," Ballerini recalled. "I just remember being a kid and standing on my chair, sweating and thinking, 'That's what I want to be like.'"
Ballerini went on to discuss what inspired her songwriting and what it means to take control of your own voice. But to see more of what she and Cardi and Stefani had to say, you'll have to watch the special for yourself!
Catch "iHeartRadio Presents SeeHer Hear Her: Celebrating Women in Music," featuring Cardi B, Gwen Stefani, Kelsea Ballerini and more of today's biggest women superstars, on-demand on iHeartRadio's YouTube and Facebook until March 14!