Image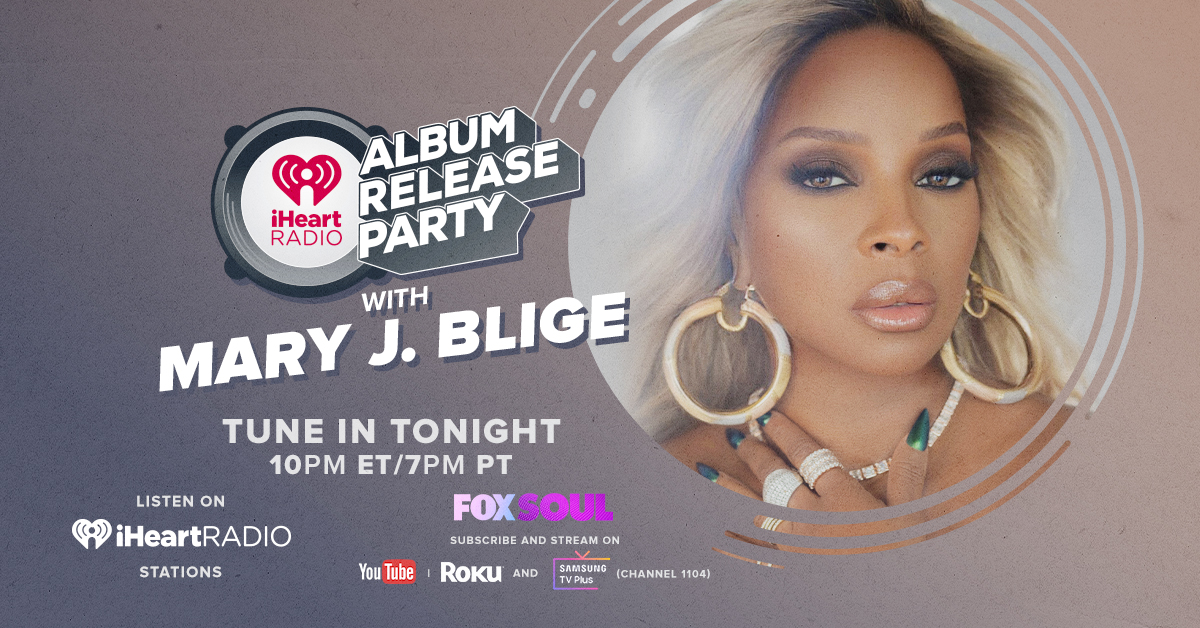 Artist of the Week: Mary J. Blige
It's a good morning indeed, Mary J. Blige fans. That's right, the reigning queen of Hip Hop Soul and soon-to-be-Super-Bowl-headliner is back with her incredible fourteenth studio album, Good Morning Gorgeous, out now. To commemorate her triumphant return, we're inviting you to celebrate with none other than Blige herself during an exclusive album listening party hosted by iHeartRadio!
Mary J. Blige's iHeartRadio Album Listening Party is set to stream free today, February 11, at 10pm ET on select R&B and Hip Hop iHeartRadio stations and on video on Fox Soul's Dish Nation. Fans can listen along to hear brand new tracks from the album, as well as exclusive commentary and even an intimate live performance of some of the songs!
But that's not all, Blige fans can also tune into iHeartRadio's All My Jams R&B station to hear new tracks from Good Morning Gorgeous playing all throughout the day!
Good Morning Gorgeous is the fourteenth studio album of Blige's illustrious career, which spans more than three decades. The 13-track LP includes previously released singles like "Amazing" featuring DJ Khaled, "Rent Money" featuring Dave East, and the title track "Good Morning Gorgeous," as well as several new songs and other collaborations with stars like Anderson .Paak, Fivio Foreign and Usher.
As the indisputable queen of Hip Hop Soul, a core sub-genre of R&B that she helped pioneer, Blige has received a jaw-dropping 30 Grammy nominations. Music critics from Rolling Stone to TIME consider her 1994 album My Life to be one of the greatest albums of all time, and her influence paved the way and inspired a new generation of soulful singers from Alicia Keys to Keyshia Cole and even Adele. Last year, Blige was even inducted by the Apollo Theater's legendary Walk of Fame, becoming the youngest living artist ever to receive the honor.
This weekend, Blige is set to take center-stage at the highly-anticipated Super Bowl LVI halftime show to perform alongside fellow icons Dr. Dre, Snoop Dogg, Eminem and Kendrick Lamar.
Gear up for the big performance and be among the first to celebrate the release of Mary J. Blige's new record, Good Morning Gorgeous, by hearing tracks from the album airing all day on iHeartRadio stations. Then, be sure to tune in at 10pm ET tonight for her Album Release Party to hear exclusive commentary, feature spots and an intimate performance from Mary J. Blige!