Image

Employee Playlist of the Month: Aidan Gutierrez
This month's Employee Playlist of the Month is perfectly curated for anyone who finds their mindset shifting throughout the day – something we can all relate to! Created by Aidan Gutierrez, iHeartRadio's Associate Software Engineer, this playlist is sure to have you feeling chill in the morning, focused during the workday and carefree in the evening. Check out your May soundtrack and learn more about Aidan below!​​​​​​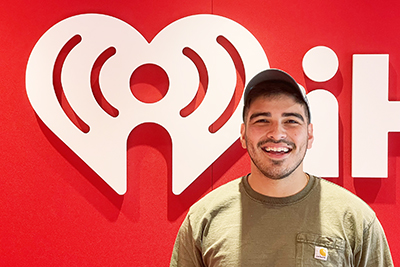 How did you choose the songs on your playlist?
I tried to make my playlist represent my average day! Every five songs represent a different part of the day in the following order; Morning, Work, End of Work, Workout, and Rest of The Day. in the morning, I like peaceful, smooth, and happy-sounding music to start the day! For work, I usually try and pick an artist I am interested in and listen through their music for the day. At the end of the workday/drive home, I like to listen to pop music to get excited after a long workday. I've been working on my Spanish lately, so I try and listen to music in Spanish when I work out. And for the rest of the day, I listen to any of my favorite songs!
When do you listen to this playlist most?
I've started walking to/from work, so I like to listen to this during the walk!
Who is your dream artist to meet, and why?
J. Cole, for sure. He seems very down-to-earth and really aware of the platform he has. I think a lot of his songs carry really great messages and he seems pretty wise in general.  If I ever got the chance to meet him, I would accept in a heartbeat!
Can you share your most memorable music moment experience?
Ohhh, that's a hard one for sure! If I had to pick, I would say seeing Weezer my freshman year of college. My best friend and I had talked about seeing them throughout high school since they were our favorite band, but we never had enough money. For his birthday freshman year of college, he got two tickets and invited me to come with him!
What is the best part about working at iHeartRadio?
Easy, the people! Although I started remote due to the pandemic, my team members still made sure we had a community. Being able to meet everyone has just made the experience even better!
A fun fact about myself is…
I am the only one of my four siblings who did not go to college for the Arts. However, I still winded up working for a music company, haha!