The Grandest Prize of All: A Stroll Through My Trip of a Lifetime
By: Lindsay Sloan, an iHeartRadio Sweepstakes Winner
I entered the iHeartRadio Music Awards / NCAA Men's Final Four Capital One Flyaway Sweepstakes like anyone else would: with the mindset that I'd never, ever win. When I received the call that I had won – I knew this getaway would, simply put, be a once in a lifetime opportunity. And I was right.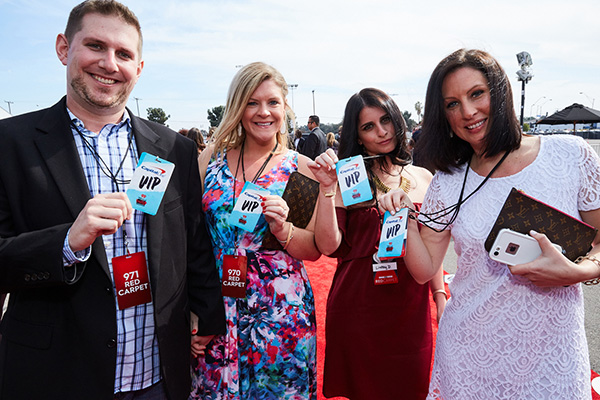 Photo by Wes Santos and Alex Gomez for iHeartRadio
From the very moment my three friends and I arrived in Houston we were treated like royalty. The energy was booming at the Hilton Americas Houston hotel where we stayed; everywhere you looked there were past and present basketball players, coaches, and staff members. You could feel the enthusiasm and couldn't help but realize how special the following days to come would be.
On Thursday evening, we were invited to the Men's Final Four Salute at the George Brown Convention Center. Within minutes, Oklahoma University, Villanova, NCU and Syracuse made their way on stage. The Salute was an awesome way to get to know each team and their players on and off the court, as each team's captain went through a quick series of questions and answers, along with each coach. If we weren't pumped enough for the games ahead, the Salute was an awesome way to start the weekend. Did I mention the Salute also included dinner and drinks? What more could you ask for!?
We began our music-filled Friday at the March Madness Music Festival right across from our hotel. The festival started with Lukas Graham and Panic at the Disco, and ended with Fall Out Boy. We sang. We danced. And we went around and around on Capital One's Ferris Wheel (what a view from the top!). But the day didn't end there! We were then invited to Madness After Dark's VIP Party presented by Capital One at the House of Blues featuring One Republic. An intimate evening with free food, drinks and one incredible band – it's as if this trip was built for celebrities! We danced and sang the night away and life as we knew it couldn't get any better...or could it?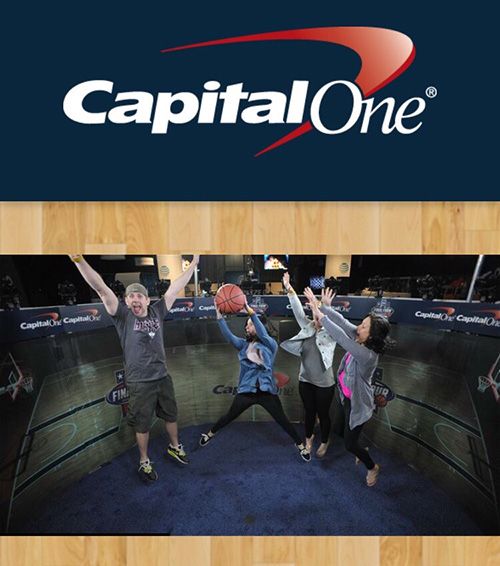 We started off Saturday morning experiencing the entertaining activities the Fan Festival at the Convention Center had to offer. We took photos at Capital One's 360 Cam Photo and shot some hoops on their court. Later that day, we arrived at the NRG stadium to start the Final Four festivities at Capital One's Tip-Off Tailgate Party. It was a beautiful day, and an awesome afternoon to relax, enjoy the atmosphere, and I got to announce the Barenaked Ladies on stage.
It was an incredible opportunity and yet another awesome perk added to this wonderful getaway. After the Tip-Off Tailgate Party we headed into the stadium: it was game time. Our seats were incredible, and the liveliness was unreal. NOVA for the win! UNC for the win! Championship game, here we come – but not until we return from LA! Capital One knows how to provide their Cardholders amazing access!
Sunday morning we had an early start but we didn't mind — we were all so excited to board our very own private jet to LA for the iHeartRadio Music Awards! The four of us had never experienced such luxurious flying (complete with breakfast and endless beverages!) and were truly in awe.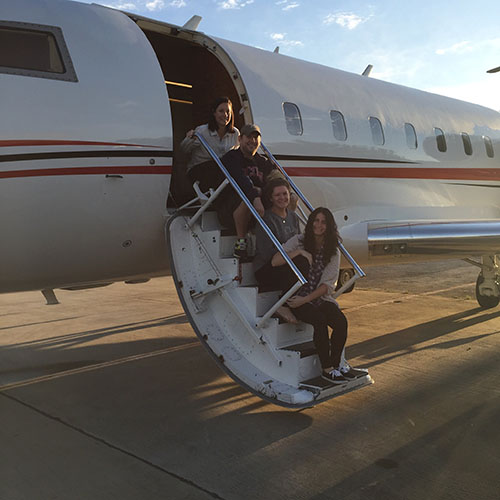 Once we got to the hotel in LA, we had a few hours to spare so we made our way poolside and enjoyed the LA weather (it was snowing back home in CT). Then, to prep for the red carpet, we each got our hair and makeup done compliments of Capital One prior to our very own limo arriving to whisk us away for our red carpet debut. As we walked along the red carpet we met AJ from the Backstreet Boys and American Idol's own Nick Fradiani, and even quickly chatted with our favorite radio hosts from the Elvis Duran and the Morning Show.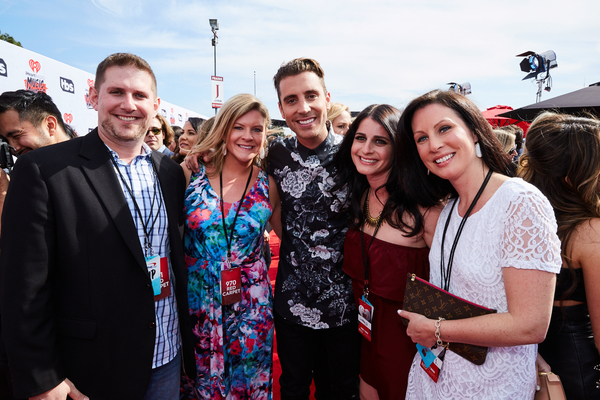 Photo by Wes Santos and Alex Gomez for iHeartRadio
The iHeartRadio Music Awards show was hosted by Jason Derulo, and appearances and performances were made by some of our all-time favorites: Justin Timberlake, Taylor Swift, Calvin Harris, Justin Bieber, Iggy Azalea and Demi Lovato. Our seats were, once again, incredible which made each and every performance that much more special. Another evening that we'd never forget.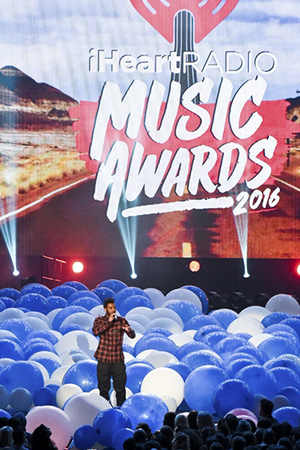 Photo by Brian Friedman for iHeartRadio
Monday morning came quick, but by then we were ready to get back to Houston for the championship game. Once we arrived back in Houston, we headed back to Capital One's Tip-Off Tailgate for one last performance from Pat Green, and some grub and drinks prior to the game. We were rooting for a Villanova win, and as luck would have it with a measly four seconds left on the clock – VILLANOVA for the WIN! Each and every minute was gut-wrenching, and we loved every second of it. An unbelievable game to end a once in a lifetime journey.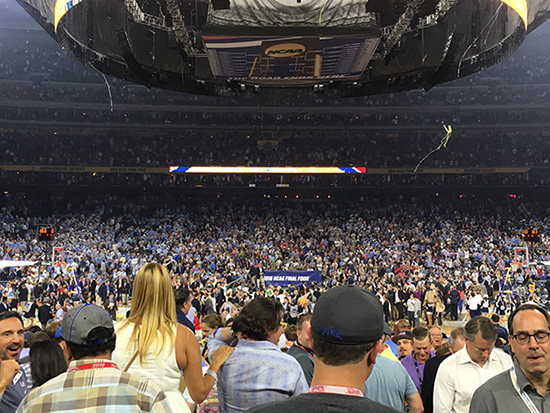 The generosity of Capital One and iHeartRadio was beyond our wildest imaginations. We appreciate and are truly grateful to anyone that played a part in making this trip a reality for us. Thank you, again, to Capital One and iHeartRadio; we will reminisce about this trip for years to come.
And who knows — maybe next time you could be the contest winner!
Banner and thumbnail image courtesy of Wes Santos and Alex Gomez for iHeartRadio​