Image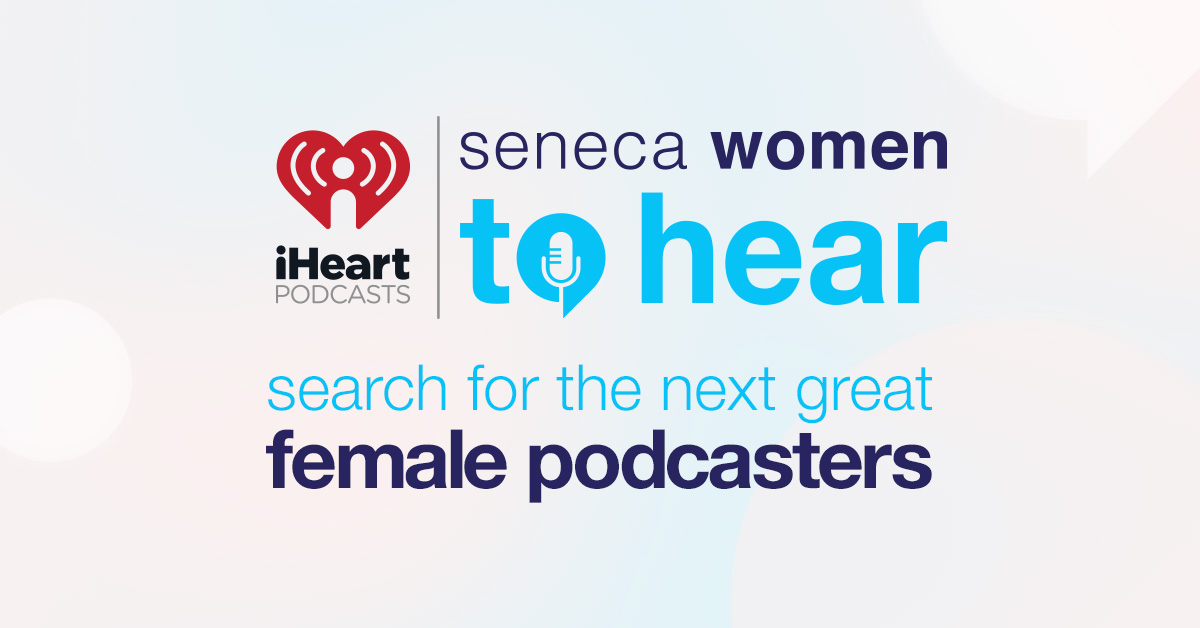 iHeartMedia and Seneca Women Launch "Seneca Women to Hear: The Search For The Next Great Female Podcasters!"
Next week, March 8, marks International Women's Day, a global celebration of the remarkable achievements and world-changing impact of women across social justice, science, politics, the arts and more.
As this important day approaches, iHeartRadio and Seneca Women are proud to announce "Seneca Women to Hear: The Search For Tech Next Great Female Podcasters." This exciting new initiative, set to be highlighted during the "iHeartRadio SeeHer Hear Her: Celebrating Women Who Make Music and Culture" special event on International Women's Day on March 8 with a special appearance from singer, author and host of the "Checking In" podcast, Michelle Williams, will kick off an incredible search for the next 10 breakout female podcast stars!
The ten most-deserving up-and-coming podcast creators will be awarded top-of-the-line audio equipment and six weeks of specialized training at the Seneca Women Podcast Academy. But that's not all, at the end of their training, these incredible women will create their own shows on the Seneca Women Podcast Network on iHeartMedia for the world to hear!
"Women's voices need to be heard," said Kim Azzarelli, co-founder of Seneca Women, "and now they can be. The Seneca Women Podcast Network, with founding partner P&G, was created to amplify the voices of women. Now we want to empower more women to make their voices heard with Seneca Women to Hear: The Search for the Next Great Female Podcasters. There are so many amazing women out there: women creators, innovators and entrepreneurs and we want the world to hear from them."
iHeartRadio has so much in store to celebrate the impact of International Women's Day this year. Kicking off the celebration today, March 1, iHeartRadio is launching an eight-day countdown to International Women's Day that brings together the biggest names in music, podcasting and entertainment.
The week-long celebration of women will culminate on March 8, with trailblazing women featured throughout the day on popular iHeartMedia radio shows, having conversations about equality, inclusion and inspiration and sharing steps everyone can take to help more women be heard. That evening, That evening, from 5 - 6 p.m. local time, iHeartMedia broadcast radio stations will also devote the hour to playing the biggest hits and new music from today's female artists and offer special playlists on the iHeartRadio App. iHeartRadio "SeeHer Hear Her: Celebrating Women Who Make Music and Culture" will also air, sharing the incredible stories of influential women like Alicia Keys, Maren Morris, Avril Lavigne and footage and interviews with other top female artists.
So set your calendar reminders for March 8 at 8pm ET to tune in live for the one-hour special streaming on iHeartRadio's YouTube and Facebook pages. And if you're interested in joining the ranks of the world's top podcast creators, consider applying to the "Seneca Women to Hear: The Search For Tech Next Great Female Podcasters" initiative program.
For more information and to enter, please visit SenecaWomen.com.