Image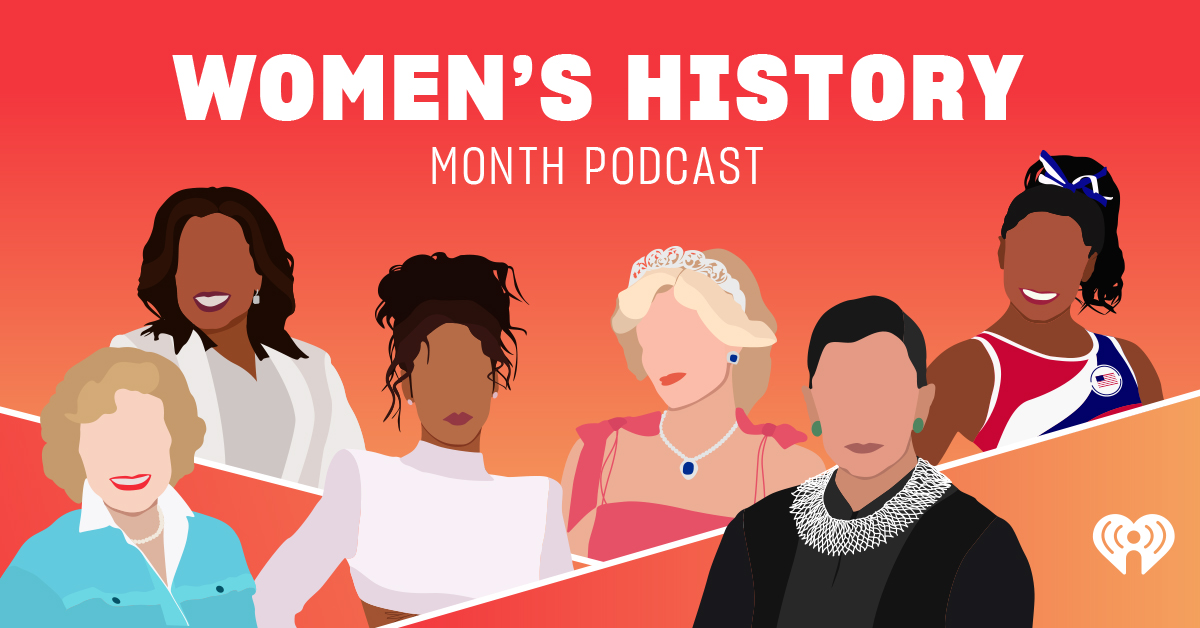 Get Inspired for Women's History Month With iHeartRadio's Playlist of Empowering Podcasts
Today marks International Women's Day, a global recognition of the extraordinary achievements and glass-ceiling-shattering impact of women across the globe. Join iHeartRadio in celebrating the power of women all month long with on-air specials, events and this must-hear collection of empowering female podcasts!
iHeartRadio's Women's History Month Podcasts highlight the world-changing influence of women across social justice, science, politics, the arts and more.
Check out "Stuff Mom Never Told You" to discover the inspiring story behind Mary Edmonia Lewis, the first woman sculptor of Black and Native American heritage to achieve international recognition. Hear from "Stuff You Missed in History Class" on how Madeline Pollard became an unlikely nineteenth-century women's rights crusader. And listen to a special episode of the "Criminilia" podcast to learn more about Sayyida al-Hurra: the fierce pirate queen who became one of the most important female figures of the Islamic West in the modern age.
For more inspirational podcasts, look no further than this special episode of "Exactly Amara" on women in power and creating your own wealth. Or stream "Chiquis and Chill" heartwrenching episode called "Honoring My Mother, Jenni Rivera," which sees Chiquis open up like never before to honor her late mother. But that's not all: there are dozens of other podcasts from the collection—including iHeartRadio originals "You and Me Both with Hillary Clinton," "Red Table Talk: The Estefans" and "Morenita"—for listeners to hear even more powerful and moving stories of women.
Also, in honor of International Women's Day, hear trailblazing women featured throughout the day on popular iHeartMedia radio shows, as they host important conversations about equality, inclusion and inspiration while sharing steps everyone can take to help more women be heard. These vignettes will culminate in the "iHeartRadio SeeHer Hear Her: Celebrating Women Who Make Music and Culture" event: an inspiring on-air special sharing the remarkable stories of influential women like Alicia Keys, Maren Morris and Avril Lavigne—as well as footage and interviews with other top female artists. Tune in tonight at 8pm ET for the one-hour special streaming on iHeartRadio's YouTube and Facebook pages.
And in partnership with Seneca Women, iHeartRadio has also announced "Seneca Women to Hear: The Search For Tech Next Great Female Podcasters:" an exciting new initiative that will discover the next 10 breakout female podcast stars! If you're interested in joining the ranks of the world's top podcast creators, learn more and enter here.
So let the celebration of women's history and achievement begin! Check out iHeartRadio's Women's History Month Podcasts playlist to honor, educate and inspire yourself all month long. And don't forget to tune in tonight for the "iHeartRadio SeeHer Hear Her: Celebrating Women Who Make Music and Culture" special event, streaming on iHeartRadio's YouTube and Facebook pages at 8pm ET!