iHeartRadio Podcasts Are Now Inflight
Fasten your seatbelt and get ready to listen to podcasts from 35,000 feet in the air! Thanks to a collaboration between iHeartRadio and Southwest Airlines, podcasts are now available through Southwest's in-flight entertainment experience, in addition to the live and custom artist radio stations already available. iHeartRadio is the exclusive music provider for their onboard portal.
Through their onboard entertainment portal, passengers can flip through a podcast carousel featuring twelve of our biggest podcasts, including hits like Business Unusual with Barbara Corcoran, Whine Down with Jana Kramer, The Thrive Global Podcast and many more.
And don't forget, you can also enjoy some tunes! Select music from genres including Alternative Rock, Country, Hip-Hop, R&B, Top 40 Hit music and others. From there, choose a live radio station or an artist-inspired station and start jamming! Music will continue to play as long as the entertainment portal is open in a tab, so feel free to browse the rest of the entertainment portal, use the web or check the flight tracker.
Already have the iHeartRadio app installed on your smartphone or tablet? You can listen to iHeartRadio through your device's app to instantly enjoy all your saved favorites and podcasts without having to use the onboard entertainment portal or purchasing WiFi! Passengers who subscribe to iHeartRadio's All Access on demand subscription service can also access their entire music library and saved playlists instantly.
iHeartRadio is now available on domestic flights across more than 690 WiFi-equipped aircraft serviced by Global Eagle.
All aboard! ​​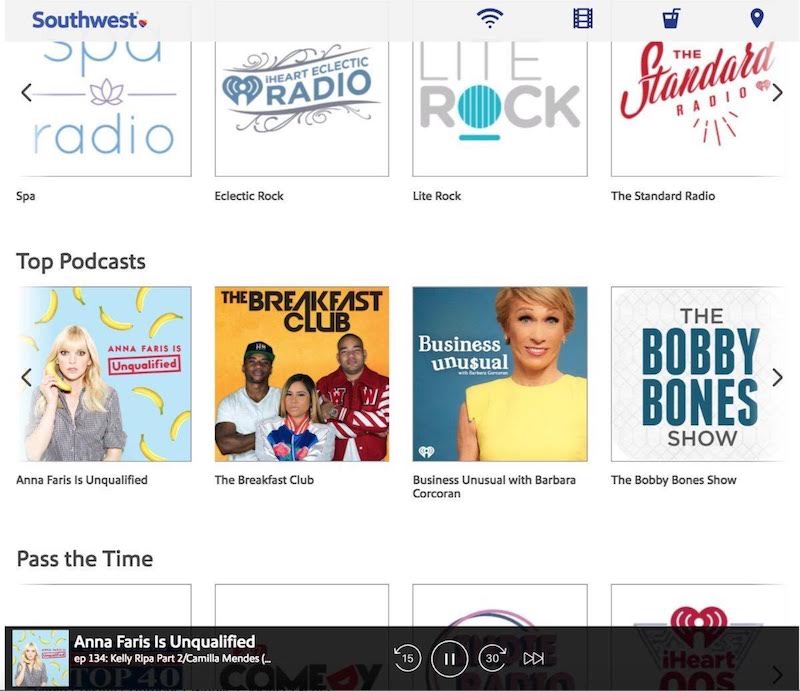 ​​