Non-Music Monday: LOL Edition
Welcome to the first post of our newest series, Non-Music Monday! Every Monday we'll highlight our favorite non-music listening options—things like podcasts, radio interviews, sports broadcasts and traffic reports. (Just kidding about that last one…though if you want 'em, we have 'em!)
And speaking of kidding around—how about that transition?—for our very first installment, we've decided to share some of our favorite LOL-worthy podcasts and stations.
If you're not one of the 42 million Americans already listening to podcasts, you might be wondering what exactly they are. In a nutshell, podcasts are on-demand audio files that you can listen to via your smartphone, tablet or computer. Many podcasts are episodic, with each episode centering around a particular theme, topic or special guest. There are podcasts for every subject, in pretty much every length, which makes them perfect for listening to during your commute, while working out, traveling, cooking...pretty much anytime or anywhere you want to tune in.
Podcasts are easily one of the most exciting forms of entertainment today, and we at iHeartRadio have our finger on the podcast pulse. And so, without further ado, here are our recommendations for laugh-inducing listening:
https://www.iheart.com/widget/?showId=23354506
For those of us who want a little attitude in our week, The Read is a must-listen. In each episode, Kid Fury and Crissle, the show's hosts, give their no-apologies take on hip-hop culture. There are no topics or opinions off the table with these guys, who have covered everything from Waka Flocka's presidential run to Kimye at Fashion Week, all delivered with Beyoncé-caliber attitude.
https://www.iheart.com/widget/?showId=26954478
Thrilling Adventure Hour brings us back to an era of old-timey radio plays. Each episode is recorded live on stage from Los Angeles and features guest stars such as Danny Pudi (Community), Nick Offerman (Parks and Recreation) and even Weird Al Yankovic. These staged productions all include fictional serialized segments, songs and commercials, and much like the guest stars themselves, the episodes are always charming and thoroughly entertaining.
https://www.iheart.com/widget/?showId=24569567
Girl on Guy is an interview-focused podcast where Aisha Tyler (The Talk, Archer, Whose Line Is It Anyway?) chats with some of the top celebrities in movies, television and pop culture. Her straight-up, funny and relatable questions are answered by everyone from Joel McHale (Community) to David Benioff (Game of Thrones).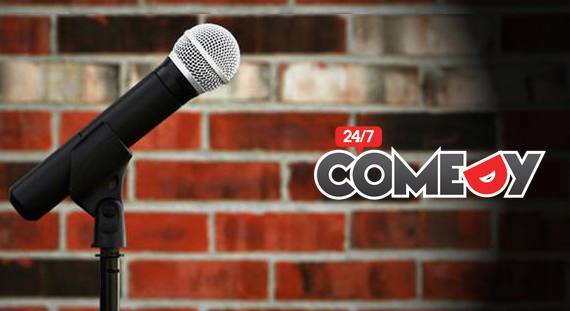 Finally, if you're looking for some 'round-the-clock laughter, give a listen to iHeartRadio's 24/7 Comedy Station, which features fast-paced, hits-oriented, mass-appeal comedy programming. Tune in to hear stand-up from the biggest names in the biz, including Dane Cook, Louis CK, Jerry Seinfeld, Jeff Foxworthy, Daniel Tosh, Chris Rock, Eddie Murphy and more.