Image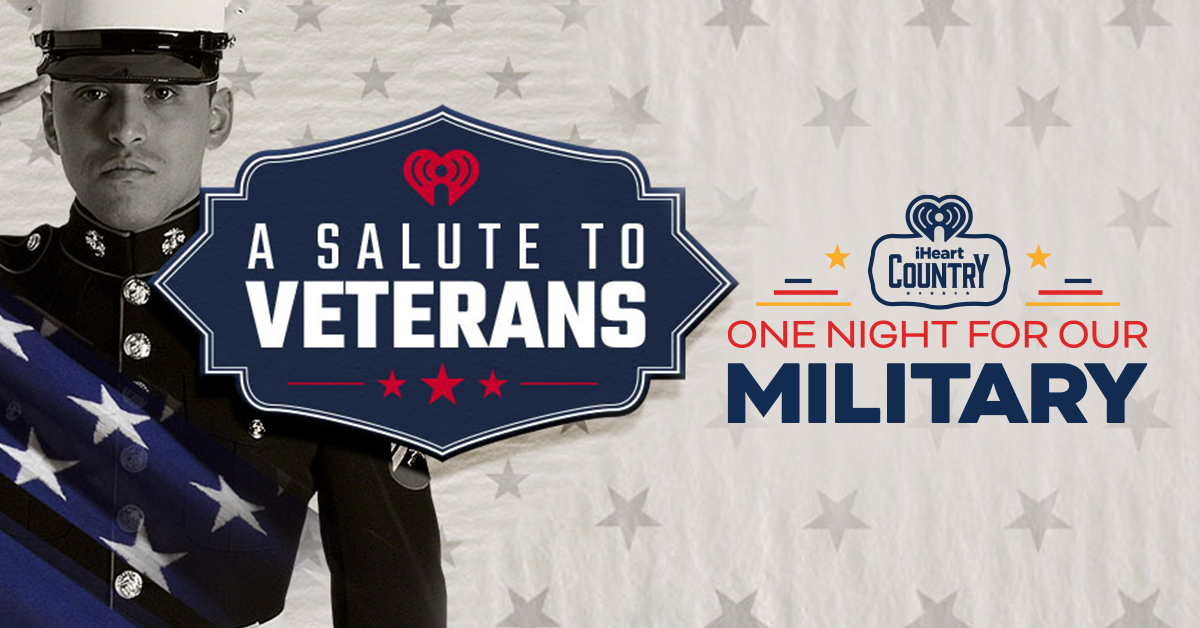 Salute Our Service Members This Veterans Day With Country Music's Biggest Stars
Each year, our country unites on Veterans Day to celebrate and honor the courage and sacrifice of the brave men and women who serve.
This Veteran's Day, iHeartRadio is bringing together some of Country music's biggest stars for a special celebration of our military heroes during the iHeartCountry "One Night For Our Military" special broadcast. This unforgettable evening of powerful live performances will feature a star-studded lineup of Country music artists, including Jason Aldean, Kane Brown, Brantley Gilbert, Lauren Alaina, Maddie & Tae, Scotty McCreery, Dierks Bentley and Toby Keith.
Veterans, service members and those wishing to celebrate our heroes, can tune in for the one-hour special broadcast of the iHeartCountry "One Night For Our Military" this evening, Thursday November 11, at 7pm local time on the official iHeartCountry radio station, as well as on other iHeartCountry stations across the nation or on the iHeartRadio app.
Looking for even more ways to salute our veterans and make a difference with your support? Listeners can further support our country's heroes by making a donation to the First Responders Children's Foundation: an organization dedicated to helping first responders' families of service members injured or killed in the line of duty.
Or you can learn more about our military heroes with iHeartRadio's special podcast series: "Veteran's You Should Know" and "Third Squad." "Veteran's You Should Know" is a podcast that celebrates the sacrifices of four veterans who proudly served our country, sharing their incredible stories of dedication, perseverance and camaraderie. Learn about the lives of service men and women, and how they continue to use their experiences today to achieve more incredible things in civilian life as well.
"Third Squad" is a new 12-part documentary podcast that tells the story of the 12 Marines of Third Squad, who served in one of the most violent regions of Afghanistan at the height of the war against the Taliban. Join journalist Elliott Woods as he embarks on a cross-country road trip to track down the 11 survivors of Third Squad a decade after they served, to talk about the war, coming home and where we all go from here.
As we get ready to celebrate our military heroes tonight, be sure to check out more of Country music's biggest acts paying tribute to veterans by thanking them for their service via vignettes featured on iHeartCountry stations nationwide. Listeners can hear inspiring and thankful messages from stars like Blake Shelton, Luke Combs, Lady A, Old Dominion, Miranda Lambert and many others!
Then, tune in to iHeartCountry radio stations or the iHeartRadio app at 7pm local time to join us in saluting our service members during the iHeartCountry "One Night For Our Military" broadcast special.
Once again, thank you to every single person who has sacrificed to serve our country. From everyone at iHeartRadio, we're wishing you all a very special and happy Veteran's Day.