Tanya's Take On: Justin Bieber
By: Tanya Rad
For those of you who don't know me, my name is Tanya Rad and I work on the nationally syndicated radio show
On Air With Ryan Seacrest
. Thanks to a lot of hard work (and not a lot of sleep), I went from being a massive music nerd in high school—spending my lunch breaks analyzing lyrics and using my allowance to buy new albums and concert tickets—to working on the radio show of my dreams. Not to get all #blessed on you—trust me, I hate that hashtag more than anyone—but I love what I do and I'm thrilled to be contributing to the iHeartRadio blog!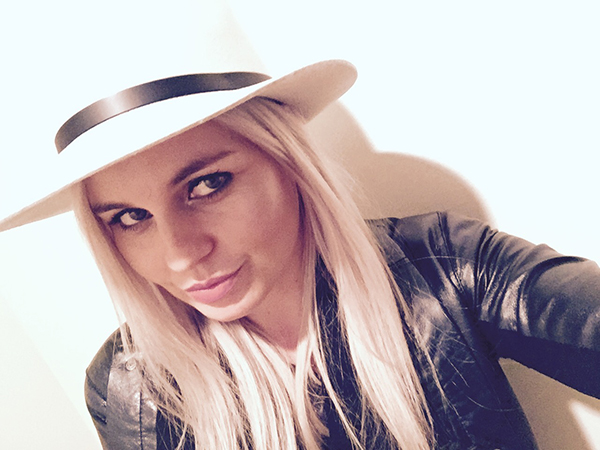 Photo Credit: Tanya Rad
In my posts, I'll share behind-the-scenes moments from the show and give you my latest music obsessions—and I have a ton, so you'll be getting pumped with a 
lot
 of new music. Today, I'm going to peel back the curtain on a somewhat controversial studio guest we had recently…
Let me start off by saying that yes, I do see why some people have a distaste for the guy; the headlines speak for themselves. However, I have a "separation of church and state" philosophy when it comes to music. The way I see it, he's a 21-year-old boy who grew up in the spotlight and made some mistakes. Who didn't do stupid stuff when they were a kid? Let's move on from dwelling on his personal life and instead focus on the amazing music he makes!
Speaking of which, if you haven't heard Justin's new feature on the Jack Ü track called 
"Where Are Ü Now,"
 you MUST go listen to it, like, now! I'm not even exaggerating when I say I've listened to it hundreds of times.
Before Justin showed up at the studio, we met with his mega-manager Scooter Braun. Like all good managers, Scooter shows up early to make sure everything is running smoothly and to answer any questions we have for him. Sometimes he likes to sit at my desk and answer the KIIS phone lines, which always freaks out the callers (in a good way)!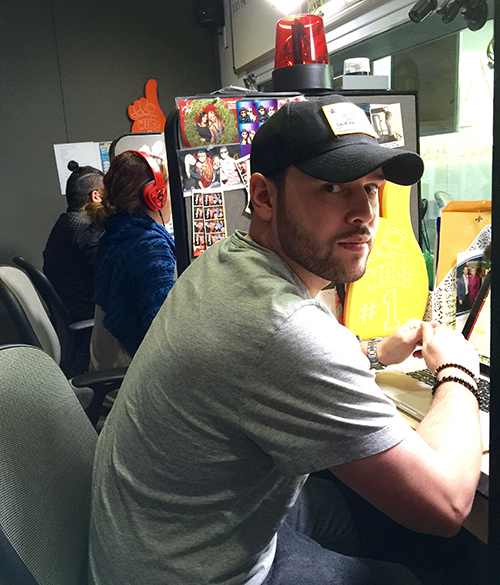 Photo Credit: Tanya Rad
After chilling with Scooter for a little while, I learned that the man of the hour (Justin) had arrived. When I walked into our green room to greet him, I was met with a kiss on the cheek and a "good to see you"— which is when I began to BOMB him with compliments about his new song and how completely obsessed with it I am. A true gentleman, he reacted to my total fangirling with the biggest smile I've ever seen.
Once Justin walked into the studio he went around and shook hands—not just with Ryan and his co host Ellen K., but with everyone in the studio. This really made an impact on me because it's rare to find a celebrity who actually takes the time to greet everyone.
Once Justin finally got to his seat, he put on headphones and answered Ryan's questions about his new music, what it was like to work with Kanye West and if Selena has influenced his new material (spoiler alert: she has.) Then he introduced us to the new love in his life…his sweet puppy Esther!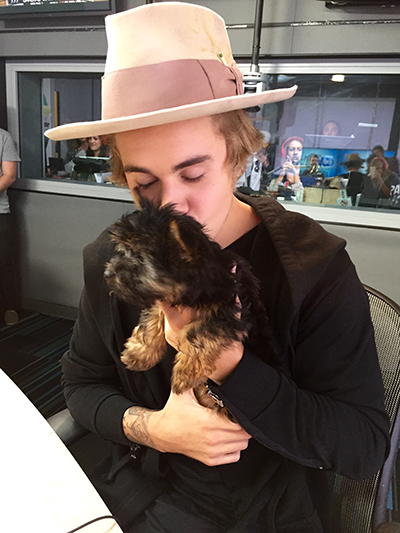 Photo Credit: Ellen K.
Overall, I think Justin seems happy to be putting out music again and getting back out there. He's set to perform at KIIS FM's 
Wango Tango
, May 9
in LA and I'm excited for him to do his thing. For all you readers who are on the same page as I am about this: rest assured that the minute I find out any info on his new music, I'll be sharing it with you! You better belieb I gotchu!

Photo of Justin Bieber & Ryan Seacrest courtesy of Sadao Turner/Ryan Seacrest Enterprises