Tanya's Take On: Demi Lovato
By: Tanya Rad
So, if you follow the On Air With Ryan Seacrest show or know anything about me, you know the name Tanya Rad kinda goes hand in hand with the name Demi Lovato. I'm a huge fangirl, to say the least!
The massive lovefest began years ago when Demi dropped her single, "Heart Attack." That song resonated with me like you wouldn't believe! I'll spare you the sob story, but let's just say if you've ever had heartbreak completely suck the life out of you, you understand why I related so much to the lyric "It's just not fair. Pain's more trouble than love is worth."
And, like I'm sure many of you do, when an artist is speaking my truth—I become a MAJOR fan! Which is what happened the day Demi Lovato came on our show the day after "Heart Attack" dropped:
https://www.youtube.com/watch?v=AVkmbke1RHw
Now, when I say I throw all of my support behind this girl, I completely mean it! I've danced my butt off at every single show she's had in LA over the last couple years, bought all her music, and take every chance I get to spread the Lovatic love!
I love Demi so much that honestly I could write a novel on what that girl has done for my life, but I'm sticking to making this entry just about her most recent visit to the studio last week…so here goes!
Demi came to the studio to premiere her latest single, "Cool for the Summer." If you haven't heard it, this song is amazing—it showcases her amazing vocals while also making you want to dance like a maniac. Don't believe me? Check out the music video we made for the song:
https://www.youtube.com/watch?v=n4XbeJt5kLs
Side note: we did this in one take, baby! Yeah, that's right!
Also, as many of you know, I have a little Demi shrine on my desk at work. It's a collection of all things Demi that I put up on the side of my desk—essentially like my high school locker, but all grown up.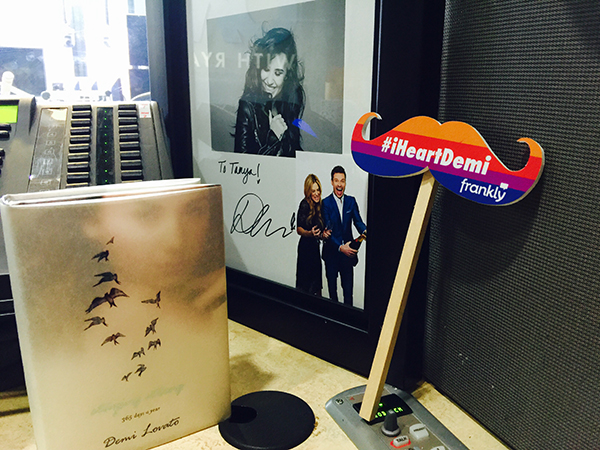 And I have to say the best part of having Demi visit the studio…was seeing her face when she saw it!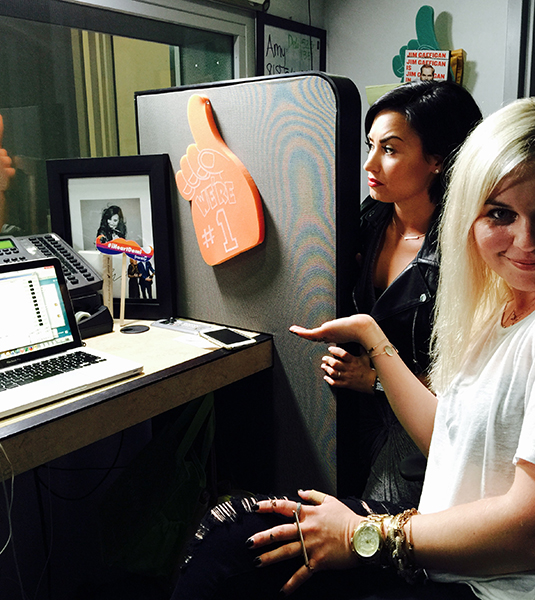 While in the studio, Demi said something that really stuck out to me. She said, "New chapter, new life, new album, new single...this is a completely new Demi."
And you know what? It really is! Demi is in it to win it—as cliché as that sounds. Demi is cool, confident, and unstoppable! This girl has a fire inside her, and I fully believe she's going to get that Grammy!
Thumbnail/banner photo by: Michael Buckner/Getty Images