A Weekend to Remember: iHeartRadio Music Awards 24K VIP Experience with Bruno Mars
By Julie Ruamthong, an iHeartRadio giveaway winner
I was sitting at my desk and just happened to glance over at my phone when I saw that I was getting a call from a New York number. I work for a tennis company that pulls in players and families from across the country, so I answered the call as I normally do. Little did I know that this was not a "normal" call. The gentleman on the line introduced himself as being from iHeartRadio and asked me how I was doing. I replied with the generic, "I'm doing well. How are you?" He replied and then asked me if I had any plans for that upcoming weekend. I said that I didn't have anything planned to which he said "How would you like to meet Bruno Mars?"
It turns out that I won the "iHeartRadio Music Awards 24K VIP Experience with Bruno Mars" just by voting for the awards in the iHeartRadio app. The man on the line then went on to list a whole bunch of other things included in the experience, but after hearing "meet Bruno Mars," I lost it. I asked him if I could put him on hold for a second so that I could leave the office and go across the street to flip out!
I am a huge Bruno Mars fan and everyone knows it – my family, my friends, my coworkers – so winning this contest was just unbelievable! I was able to bring three guests and instantly knew it would be my mom, dad and sister. Bruno's stylist even reached out to me so that she could help find me the perfect outfit to wear for the iHeartRadio Music Awards. I couldn't believe I was having such a normal conversation with someone so close to Bruno and that an individual who has such an eye for style was going to dress me!
Everything came together so quickly! We were flown first class to Los Angeles where the iHeartRadio Music Awards were being held and found ourselves staying at this gorgeous hotel right on the beach. That night we were given an exclusive behind-the-scenes venue tour of The Forum, got to walk on the Red Carpet and even go on stage during Bruno's soundcheck! I screamed and fangirled like a crazy teenager. He was beyond sweet, gave me a friendly hug and introduced me to his team.
Originally, I was supposed to be the only one on stage with Bruno, but he asked if I wanted to bring my family up with me. I said yes, of course! I was about to pass out from just being on stage with him and then when he and the band started singing "Just the Way You Are" and inserted my name, I felt like I was in a dream.
The following day was the night of the awards and the day that I received the dress that Bruno's stylist picked out for me. I looked inside the bag to find a stunning red dress paired with gorgeous black and white stilettos and a chic clutch. I felt like a princess and a rockstar all at the same time.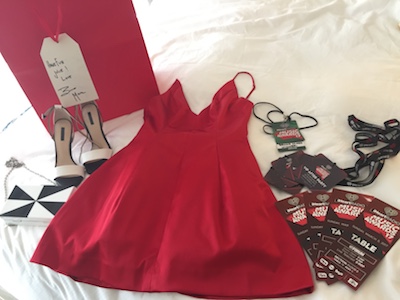 When we got to the awards, we were escorted to a VIP table with an amazing view of the stage. I was told that I would also get the chance to see Bruno before he was set to perform. When we got to his dressing room, it was just him and 2 other ladies there. He hugged me and then we took selfies together. Selfies with Bruno Mars!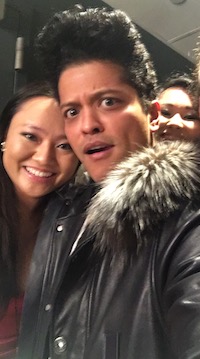 I just couldn't believe how kind and courteous he was. This was such an amazing experience and one that I'll forever remember. Thank you to iHeartRadio for allowing both me and my family to share such an unforgettable experience! ​​​