Image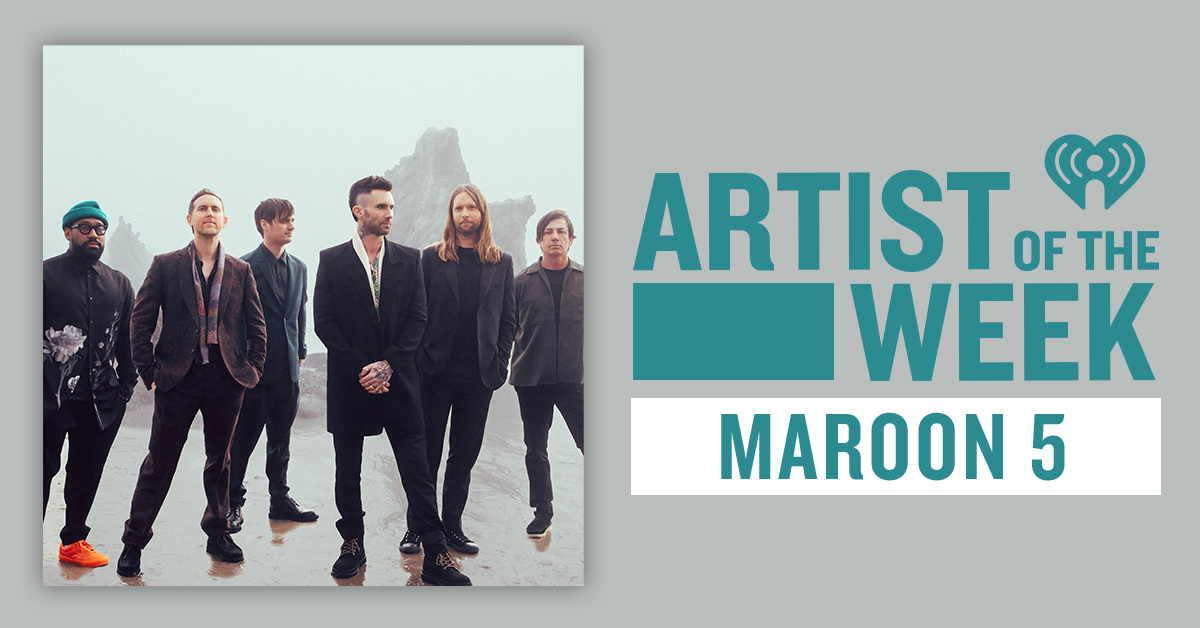 Artist of the Week: Maroon 5
It's getting harder and harder to breathe Maroon 5 fans, as the wait is finally over for pop-rock quartet's brand new album JORDI, out now! To celebrate, Maroon 5 is joining iHeartRadio for an exclusive album listening party, hosted by Valentine.
Maroon 5's iHeartRadio Album Listening Party is set to stream free next week, June 14, at 8pm local time on iHeartRadio's Hit Nation and Today's Mix digital stations, and on iHeartRadio's YouTube channel. Fans can listen along to hear needle drops from the new record, as well as an exclusive interview with frontman Adam Levine and even an intimate live performance of some new songs!
JORDI is Maroon 5's seventh full-length album, and follow up to 2017's Red Pill Blues. The new album mixes the band's signature sound—a mix of indie, soft rock, pop and soul that has been dazzling music fans for nearly two decades—with some new influences from a bulging guest list that includes the likes of Stevie Nicks, Jason Derulo, Blackbear and more. The tracklist features 14 songs in total, including previously released singles like "Nobody's Love" and "Beautiful Mistakes" featuring Megan Thee Stallion. The album also includes a remix of "Memories'' featuring YG and the late Nipsey Hussle, as well as another posthumous collab with Juice WRLD on "Can't Leave You Alone."
The album is dedicated to the band's childhood friend, Jordan Feldstein, who later became Maroon 5's manager before passing away in 2017.
"This album is named after our manager. We built this thing together. A piece of me will always be missing," Adam Levine wrote on Instagram earlier this year. "I miss him every single day. And I'm proud to have etched his name into the history of this band that he helped build from the ground up...every step of the way. We love you Jordi."
We're also loving JORDI and find the soulful tracks are a touching tribute to the man who shares the album's name. Check out JORDI to hear them for yourself, streaming now on iHeartRadio. Then, tune in next Monday to iHeartRadio's Hit Nation and Today's Mix stations or iHeartRadio's YouTube at 8pm local time to hear exclusive commentary, featured tracks and a live performance from Maroon 5!