Image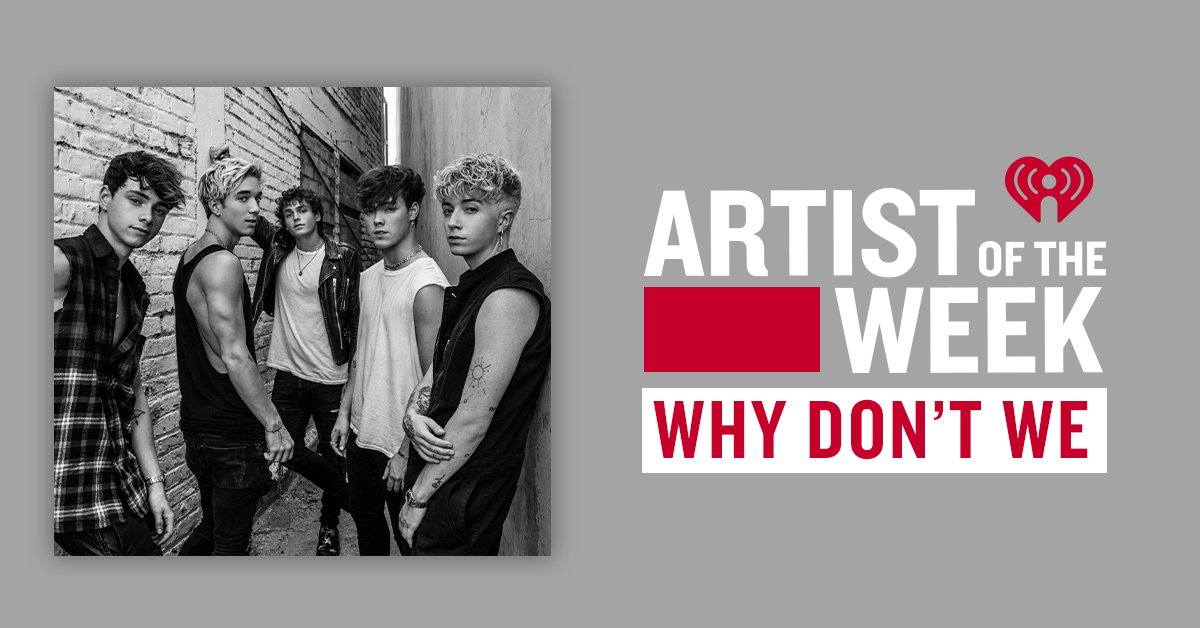 Artist of the Week: Why Don't We
Why don't you check out brand new music from Why Don't We! The electric boy band is back with a brand new album, The Good Times and The Bad Ones, out today. To celebrate, the guys are joining iHeartRadio today for an exclusive album listening party and performance!
Why Don't We's iHeartRadio Album Party is set to stream free today, January 15, at 8pm ET on iHeartRadio's Hit Nation station and via LiveXLive.com or the LiveXLive app. Fans can listen along to hear brand new tracks from the album, as well as exclusive commentary from Why Don't We and even a live performance of their new songs!
The Good Times and The Bad Ones is Why Don't We's second full-length album, and follow up to their breakthrough 2018 record, 8 Letters. The new project features 10 new songs, including their hit "Fallin' (Adrenaline)," which premiered last fall. The five-piece boyband—comprising Daniel Seavey, Corbyn Besson, Zach Herron, Jonah Marais and Jack Avery—self-penned and co-produced the entire record, evolving their signature sound and showcasing newfound confidence, maturity and songwriting skill.
Why Don't We took some much-needed time off in 2020 after touring for nearly three straight years, which helped them refocus and re-energize themselves for this new project. In a statement on this new chapter, Corbyn Besson said writing and co-producing their own music has been one of the most rewarding experiences for the band.
"In the past four years we've become confident enough to reinvent ourselves, becoming the band we always hoped to be," said Besson.
Fellow band member Daniel Seavey added of the album, "It was time to do this ourselves. These are our ideas, melodies, and thoughts."
We're excited to rock out with Why Don't We and their brand new tracks later today! Check out the band's brand new album The Good Times and The Bad Ones streaming now on iHeartRadio. Then, tune in tonight to iHeartRadio's Hit Nation station or LiveXLive.com at 8pm ET to hear an exclusive live performance of Why Don't We's new music!