Employee of the Month Playlist: Maria Bonello
What's the fun in always sticking to the same musical genre? Our March Employee of the Month playlist comes from Maria Bonello, Engagement and Retention Manager for iHeartRadio, whose appreciation for all kinds of artists is contagious! Check out her full playlist below, and try listening to something you've never heard before!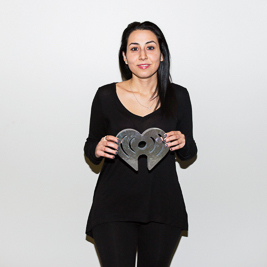 1. Why did you choose the songs on your playlist?
The songs on my playlist are a great representation of my diverse musical interests, which range from alternative rock and country, to synth-pop.
2. When do you listen to this playlist most?
My iHeartRadio playlist enables me to listen to all my favorite songs during my commute, when appropriate during work and while I am at home cooking dinner as sous chef.
3. Who is your dream artist to meet and why?
If I could meet any artist, it would be Cher because I BELIEVE she is amazing. I've been singing along to her music since I was little.
4. Can you share your most memorable music moment experience?
Having worked in the music industry for six years, I've had numerous encounters with artists and have been to many shows. I must say that my most memorable music moment was when I met the lead singer of my favorite band, AWOLNATION.
5. What is the best part about working at iHeartRadio?
The best part about working at iHeartRadio is knowing that we all share a passion for music and aim to deliver a quality product that allows people to share, discover and listen to music from all around the world.
6. A fun fact about myself is…
That I used to be a financial reporter on Wall Street and co-producer/co-host of a weekly video segment.
1. Sleepyhead — Passion Pit
2. Hollow Moon (Bad Wolf) — AWOLNATION
3. Heavydirtysoul — Twenty One Pilots
4. Gasoline — Halsey
5. The Seed 2.0 — The Roots
6. Sounds Like a Party — Lettuce ft. Nigel Hall
7. Killing in the Name — Race Against the Machine
8. Mf — AWOLNATION
9. Beer Can — Luke Combs
10. Thunder — Imagine Dragons
11. Ophelia — The Lumineers
12. Moving On and Getting Over — John Mayer
13. Back Pocket — Vulfpeck
14. THISKIDSNOTALRIGHT — AWOLNATION
15. Car Radio — Twenty One Pilots
16. Perfect Symphony (with Andrea Bocelli) — Ed Sheeran
17. Body Like a Back Road — Sam Hunt
18. Not Your Fault — AWOLNATION
19. Castle — Halsey
20. She Got the Best of Me — Luke Combs
21. 1 for 1, DiMaggio — Vulfpeck
22. Control — Halsey
23. Gravity (Album Version) — John Mayer
24. Gold — Kiiara
25. Jump 'n Shout — Basement Jaxx​​​