Employee of the Month Playlist: Renato Ticzon
We never pass up an opportunity to jam out to our rock favorites! Check out this classic rock playlist, courtesy of Renato Ticzon, engineering project manager at iHeartRadio. You can also see the full list of songs below!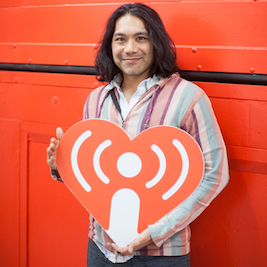 How did you choose the songs on your playlist?
I created this playlist to train for an upcoming race in September 2018. I'm doing it with my high school friends, so I chose songs from my high school days.
When do you listen to this playlist most?
I listen to the playlist most when I work out.
Who is your dream artist to meet and why?
The Beatles. I took a history class on music and learned all about them.
Can you share your most memorable music moment experience?
Well, I'm not musically inclined. I tried playing the violin, piano and guitar but failed at all of them. However, I was once tricked into singing a song at our company karaoke party and I was told that I rocked it!
What is the best part about working at iHeartRadio?
The best part about working at iHeartRadio is all the fun events. We have artist performances, ping pong tournaments, iHeart Fitness Day, movie nights, puppies in the office on National Puppy Day and more.
A fun fact about me is…
I signed up for an Ironman competition in Chattanooga with my high school friends. Hopefully we can cross the finish line together.
1. Thunderstruck — AC/DC
2. Panama (2015 Remastered Version) — Van Halen
3. Youth Gone Wild — Skid Row
4. Welcome To The Jungle — Guns N' Roses
5. Photograph — Def Leppard
6. Girls, Girls, Girls — Mötley Crüe
7. Smells Like Teen Spirit — Nirvana
8. Man in the Box — Alice in Chains
9. Walk This Way — Aerosmith
10. Where The Streets Have No Name - U2
11. Don't Stop Believin' — Journey
12. Your Love — The Outfield
13. Our House — Madness
14. Video Killed The Radio Star — The Buggles
15. Close To Me — The Cure
16. I Melt With You — Modern English
17. Bizarre Love Triangle (2015 Remastered Version) — New Order
18. Chains Of Love — Erasure
19. Alive and Kicking — Simple Minds
20. Good Vibrations — Marky Mark and the Funky Bunch
21. It Takes Two — Rob Base & DJ E-Z Rock
22. Treat 'Em Right — Chubb Rock
23. What Is Love — Haddaway
24. Unbelievable — EMF
25. (You Gotta ) Fight For Your Right (To Party) — Beastie Boys
26. Peter Piper — Run-D.M.C.
27. I'm Bad — LL Cool J
​​​​​