Employee Playlist of the Month: Thomas Drapeau
It's that time again — get excited for the iHeartRadio Employee Playlist of the Month, featuring our SVP Engineering, Thomas Drapeau. Step into Thomas' shoes and take a listen of his playlist here. You can also check out the full list below!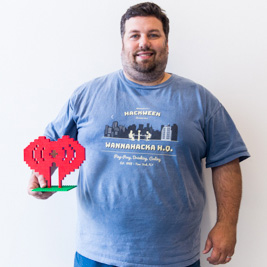 How come you chose the songs on your playlist?
These are all songs I loved in high school, many of them tied to specific memories.
When do you listen to this playlist most?
On the train in the morning or when I need a pick-me-up at work.
Who is your dream artist to meet and why?
Unrelated to the contents of my playlist, Paul McCartney. I grew up with the 4 faces on the wall (who didn't) and was lucky enough to see Sir Paul perform at the 2013 iHeartRadio Music Festival. So if anyone knows how to make that happen, let me know! :-)
Can you share your most memorable music moment experience?
Two I can recall are watching Queen feat. Adam Lambert at the same 2013 iHeartRadio Music Festival, and seeing The Eagles' live performance of "Hotel California" was awesome.
What is the best part about working at iHeartRadio?
The people. Hands down.
A fun fact about myself…
I love to have fun at work, hence my involvement in our office's CodeJams, Hack Days, Hack Weeks, Tech Talks, Public Speaking Club, Game Night/Lunch, Take Our Daughters and Sons to Work Day, Ping Pong, DJ nights and Nancy Tuesdays.
As for the rest—here is a list of 31 songs that I loved in high school, and still do.
​We Got Our Own Thang – Heavy D and the Boyz  

Hip Hop Hooray — Naughty by Nature  

Fight the Power – Public Enemy  

Around the Way Girl – LL Cool J  

Freaks Come Out at Night – Whodini  

Player's Ball — Outkast  

Ring Ring Ring (Ha Ha Hey) — De La Soul  

Doin' Our Own Dang — Jungle Brothers

Check the Rhime — Tribe Called Quest

Ladies First (feat. Monie Love) — Queen Latifah

Chief Rocka — Lords of the Underground

Sound of da Police — KRS-ONE

Ante Up (Robbin Hoodz Theory) — M.O.P.

It Takes Two — Rob Base & DJ E-Z Rock

It's Tricky — Run-D.M.C.

93 'Til Infinity — Souls of Mischief

They Reminisce Over You — Pete Rock & C.L. Smooth

Slow Down — Brand Nubian

Step In The Arena — Gang Starr

Microphone Fiend — Eric B. & Rakim

Gimme Dat (Woy) — Boogie Down Productions

Come Clean — Jeru the Damaja

Ain't No Half-Steppin' — Big Daddy Kane

Looking at the Front Door — Main Source

Just a Friend — Biz Markie

I Used to Love H.E.R. — Common

Who Got Da Props — Black Moon

Slam — Onyx

Crossover — EPMD

Passin' Me By — The Pharycde

The Choice Is Yours (Revisited) — Black Sheep​​​​