Image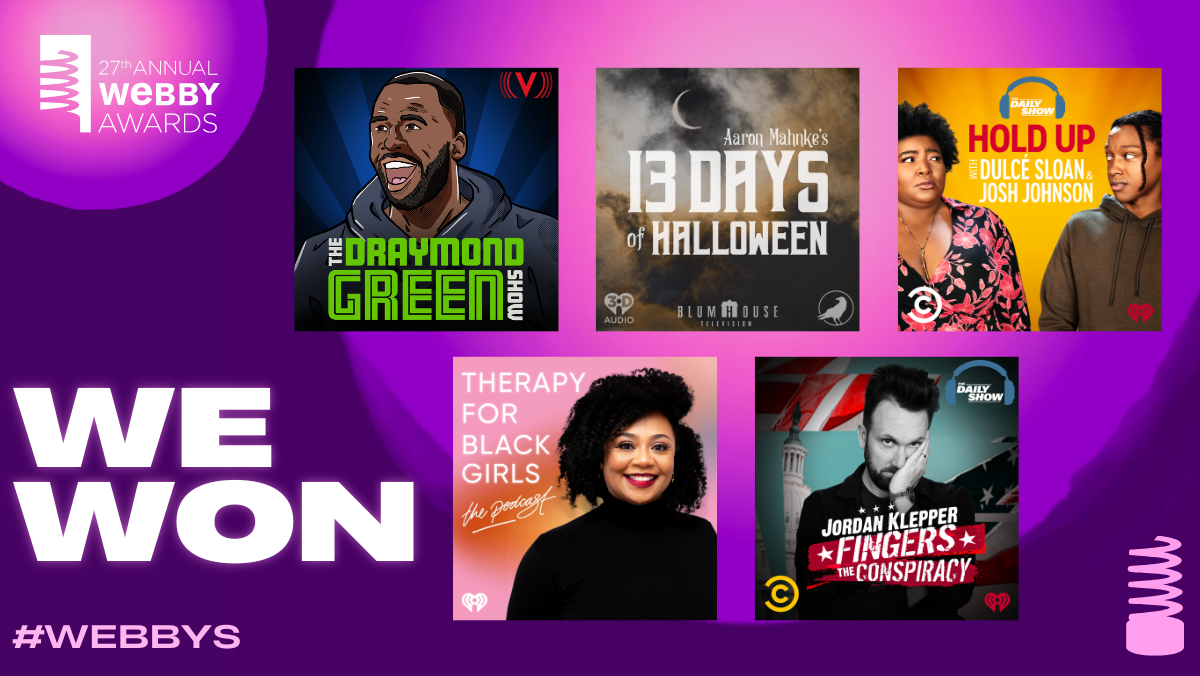 iHeartPodcasts Wins Five Webby Awards - Celebrate the Winning Shows with Us!
It's time to celebrate as iHeartPodcasts has won five Webby Awards this year!
The winners were announced this week, with "Hold Up with Dulcé Sloan & Josh Johnson from The Daily Show" winning the Webby Award in the Comedy category and "Therapy for Black Girls" winning the Webby Award in the Health, Wellness & Lifestyle.
Additionally, three shows were voted the People's Voice Winner by fans, including "Jordan Klepper Fingers the Conspiracy" in the Best Limited Series category, "13 Days of Halloween" in the Scripted (Fiction) category and "The Draymond Green Show" in the Sports category.
Plus, several other iHeartPodcasts were nominated across categories including: "Rep: A Story About the Stories We Tell" in Best Limited Series, "All the Smoke" in Sports, "Not Lost" in Art & Culture, "Symptomatic: A Medical Mystery Podcast" in Best Series, "The Lower Bottoms" in Best Writing, "Stealing Superman" in Entertainment, "Bedrock, USA" in News & Politics and "The Official Game of Thrones Podcast: House of the Dragon" in Television & Film. "Mobituaries with Mo Rocca" also received an Honoree mention in the Science & Education category. 
The Webby Awards is an international awards program that celebrates the best of the internet across various forms of media, including websites, video, advertising, media & PR, social, apps and podcasts. The ceremony is overseen by the International Academy of Digital Arts & Sciences. This group selects five nominees for each category and then the winner. Nominees in each category are also in the running for a Webby People's Voice Award, which is selected by a public vote from the online community.
Celebrate each of these podcasts by tuning in on iHeart.com, the iHeartRadio app and everywhere podcasts are heard!