Image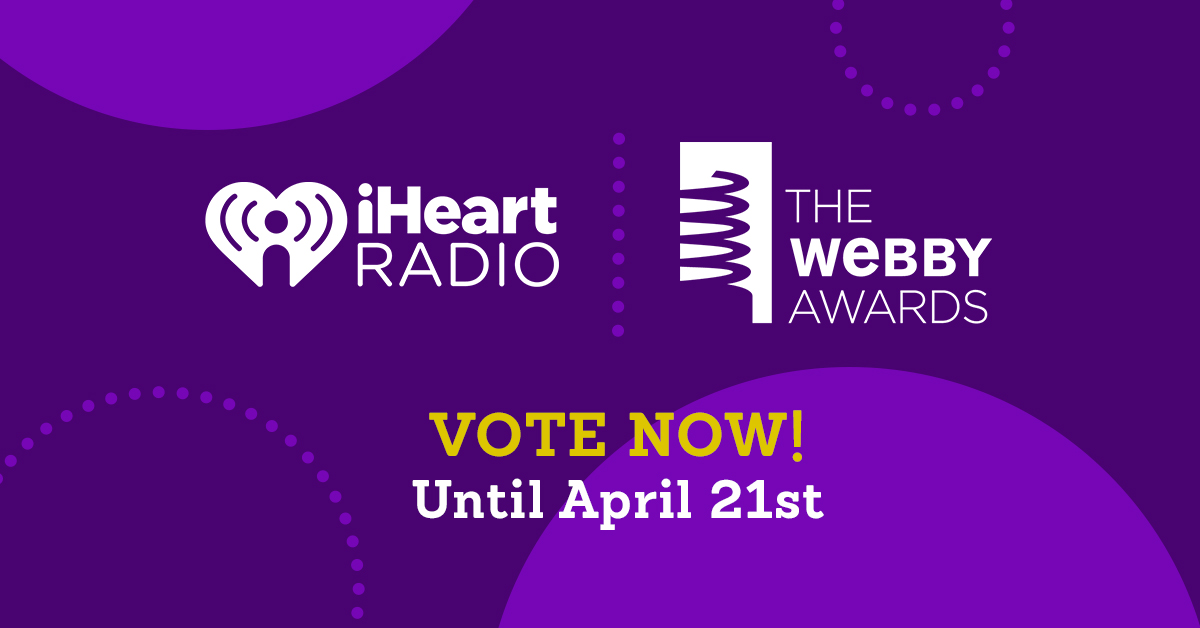 iHeartRadio Scores Big with 35 Nominations and Honors at the 2022 Webby Awards
The iHeartRadio family has plenty of reasons to celebrate thanks to the 2022 Webby Awards! Their list of nominees and honorees was just announced, and we're thrilled about our 35 total mentions.
The hard-working teams and creators behind some of our fan-favorite iHeartRadio Original podcasts brought in the majority of the nominations, with "Sweat the Details" up for Best Series and both "Lolita" and "The MLK Tapes" co-produced with Tenderfoot TV up for Best Limited Series. 
iHeart also scored big in the general series categories with shows from some of our most popular creators. Lawyer and TV personality Eboni K. Williams' show "Holding Court with Eboni K. Williams" from the Black Effect podcast network is among the nominees in the News & Politics category, while renowned actress and activist Laverne Cox is nominated in the Diversity & Inclusion category for her podcast with iHeartRadio and Shondaland Audio, "The Laverne Cox Show." Recent Oscar winner Questlove received two nominations for his "Questlove Supreme" show, one in the Lifestyle category and one in the Music category. Comedy Central and iHeart's "The Daily Show With Trevor Noah: Ears Edition" and iHeartRadio and Diversion Media co-production "I Am Kobe," a dive into the late Kobe Bryant's early years, were also nominated. 
Other podcasts receiving a nomination include "Was I In a Cult?", My Cultura and Sonoro's "Princess of South Beach" and "The Ten News." Bloomberg's "Odd Lots" and "Thrillist Explorers" were also nominated. Additionally, several podcasts produced in partnership with iHeart received nominations, including: Pushkin's "Lost Hills" up for Best Writing while Luminary's "The Roxane Gay Agenda" is nominated in the individual episode Diversity & Inclusion category. 
We're also thrilled that some of our shows earned honoree status, deemed one of the best on the internet among thousands of entries. These include "Math & Magic: Stories from the Frontiers of Marketing," hosted by our CEO and Chairman Bob Pittman, and "Dear Chelsea," hosted by comedian Chelsea Handler. "NFL explained," "The Office Deep Dive," "Operation Midnight Climax" and "Unread" were also named honorees, along with "All the Smoke," "#Storytime," "A Slight Change of Plans," "Make It Up As We Go," "Strawberry Spring" and more.
But our podcast teams weren't the only ones getting some love! iHeartRadio was nominated under Apps and Software in the Best Voice Skill category for our Voice-Enabled Song Requests and Dedications with Alexa. Soundscapes by iHeart is also nominated in the Technical Achievement category. And when it comes to events, the 2021 iHeartRadio Jingle Ball Tour, our iconic annual concert series, made the list of honorees. 
The Webby Awards is an international awards program that celebrates the best of the internet across various forms of media, including websites, video, advertising, media & PR, social, apps and podcasts. The ceremony is overseen by the International Academy of Digital Arts & Sciences. This group selects five nominees for each category and then the winner.
Nominees in each category are also in the running for a Webby People's Voice Award, which is selected by a public vote from the online community. And that's the best part: You can help us win! Head over to vote.webbyawards.com/PublicVoting to make your voice heard.