Nada's Country: Backstage at the iHeartCountry Festival
By: Nada
In the spirit of honesty and lack of another reason, I should probably be completely transparent with you: I did not watch any of the iHeartCountry Festival. I was there. I was in Austin. I was in the Frank Erwin Center. But I saw none of it. (Well, just about none of it.)
Before you scold me, know that I had a good excuse: I was backstage working and snapchatting my little fingers away. Proof? Here's just a snippet of the nine-minute Snapchat Story I had on Bobby's account at the end of the night:
But just because I didn't get to sit in the crowd (or on my couch in No Pants Land) and see every performance doesn't mean I can't give out a list of superlatives from my backstage point of view.
I mean, let's be honest. I saw a lot of stuff running back and forth and back and forth with Bobby as he hosted the whole thing.
Alright, let's do this.
Best Dressed: Brooklyn Decker
I mean she should just get the award for overall bestest, nicest, prettiest, funniest and has the cutest baby.  Seriously. It was my first time meeting her, but she's BFFs with her co-host, Bobby, who is also BFFs with her hubby Andy Roddick.
But let's just focus on her amazing outfits:
#1:
#2:
#3: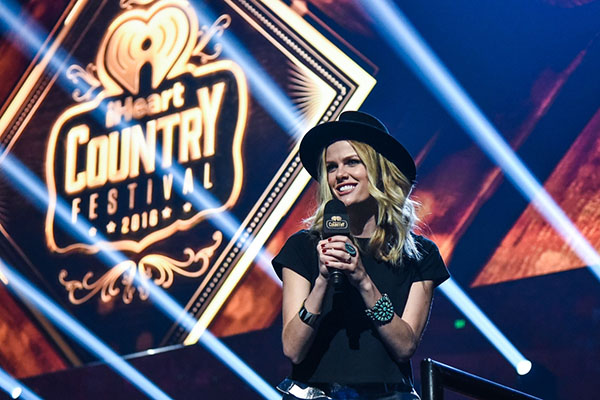 Image courtesty of Brian Friedman / iHeartRadio

Best Dance Moves: Sam Hunt
So, I may have told a little white lie. There was one song I saw fully performed, and it was Sam Hunt doing "Break Up In A Small Town" because Bobby had an in-crowd presenting shot, so we got to go out front for a minute.
Boy, did I get lucky seeing that song! It was high-energy, lots of fireworks or pyro or whatever you call it, and a whole lotta Sam Hunt dance moves. He wins.
Hottest Mess: Bachelor Ben
Look, I'll say this. I did not watch one episode of the Bachelor and wasn't that impressed with Ben in photos/on TV. But dang, dude is seriously good looking in person so I take it all back.
However, he still wins the award for being the hottest mess. Case in point: more beer on his shirt than in his cup in this photo with Amy from the Bobby Bones Show. Hey, can't knock the guy for having a good time.
Best Drawing:
Hosts Brooklyn and Bobby took some time to commemorate the moment by drawing each other backstage.
Bobby Bones looks great in pink lipstick.
Best GIF Of The Night:
Granger Smith's alter ego Earl Dibbles Jr. cracking a cold one. YEE YEE!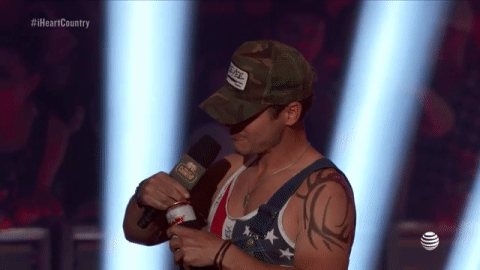 It's totally okay if you didn't watch the show live (like me!) because you can see all the highlights on iHeartRadio's recap pages, check out all the amazing photos, and watch it all when it airs on May 13 at 9 p.m. ET/PT via DIRECTV channel 239 or U-verse channel 1114!​​​​​​​​​​​​​​