Image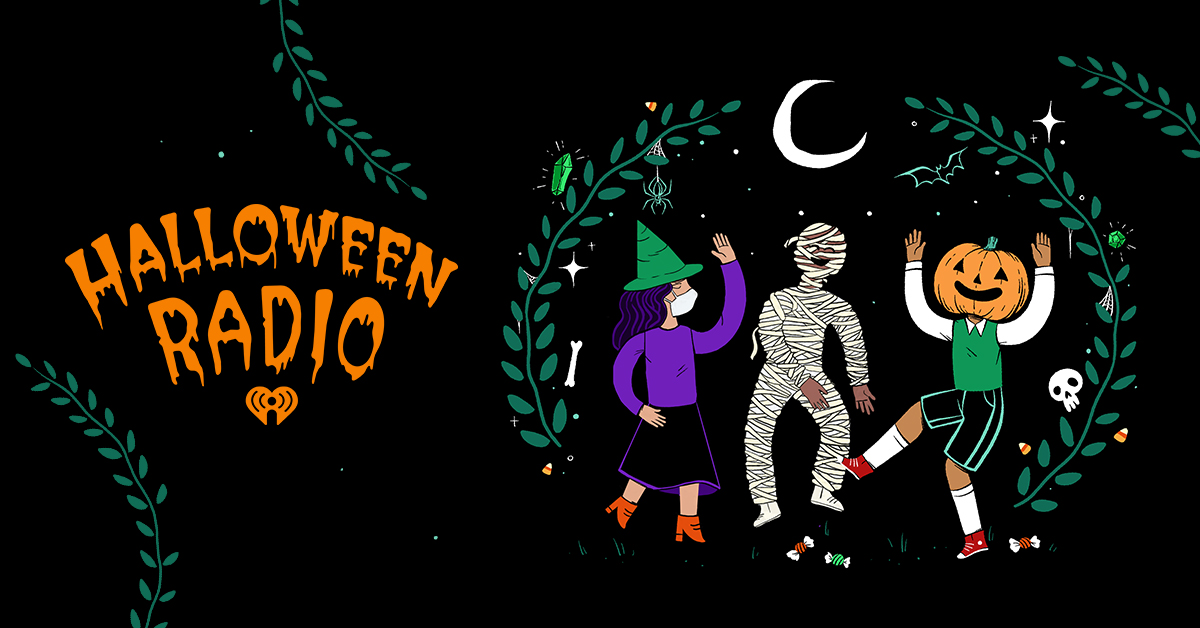 Podcast Spotlight: Halloween Edition
With so many podcasts being made today, it's hard to keep up. Luckily, with the help of iHeartRadio's Podcast Spotlight, you can find something new to listen to every week. Here's the latest on iHeartRadio podcasts, seasons and episodes.
In honor of Halloween, this week we're sharing a spooky special edition of our weekly Podcast Spotlight, featuring a frighteningly good collection of the best scary podcasts and songs. iHeartRadio's "Halloween Radio" playlist covers everything from howling Halloween hits to the most petrifying podcasts and more. It's the perfect way to get in the spirit of Halloween this month! Check out some highlights of what you can expect to hear below, and then listen to the full collection on "Halloween Radio" from iHeartRadio... if you dare!
First up, the countdown to Halloween is on with season two of "13 Days of Halloween." The special podcast series from horror extraordinaire Aaron Mahnke's Grim & Mild, Blumhouse Television and iHeart3DAudio features 13 nights of supernatural activity and scares. Starring Kathy Najimy (Hocus Pocus, Sister Act) and Bethany Anne Lind (Ozark, "Lore"), the haunt begins when a mysterious stranger awakens on the rocky shore of the eerie New England village of Direbrook. But as the residents pitch in to restore her foggy past, it becomes clear that in Direbrook, not everything is what it seems. "13 Days of Halloween." is produced with state-of-the-art binaural audio technology that provides a three-dimensional listening experience so you feel right in the middle of the action. So, grab your headphones and hold on tight to your popcorn, there's no better way to countdown the spookiest time of the year than season two of "13 Days of Halloween!" The new season is out now, with new episodes dropping daily through October 31.
Our next harrowing Halloween podcast is for all the Stephen King fans out there. Introducing "Strawberry Spring:" a new scripted, narrative podcast based on the popular short story from King's classic 1978 collection Night Shift. The king of horror's first foray into podcasting packs a powerhouse cast, including This is Us star Milo Ventimiglia and Euphoria's Sydney Sweeney. Set against the backdrop of the sixties revolution on the fictional New England campus of New Sharon College, "Strawberry Spring" follows a journalist (Ventimiglia) who hears the name "Springheel Jack" on the radio, which rekindles memories from his time back in college when a serial killer was claiming victims during a strawberry spring. Inspired to find Springheel Jack once and for all, the journalist begins unraveling the dark and mysterious truth behind the killer's origins. Figure out all the frightening findings by listening to "Strawberry Spring" right now.
If those podcasts sound like a nightmare come true, just wait until you hear this next podcast… "See You In Your Nightmares" co-produced by Einhorn's Epic Productions, is another original scripted horror podcast produced in terrifying 3-D audio for a more immersive and haunting experience. This chilling podcast tells the story of Harper Hart, who has been plagued by insomnia since the mysterious death of her twin sister. In desperation, she turns to an experimental treatment, but something goes terribly wrong as Harper can now jump into people's dreams… and nightmares. She'll soon discover she's not alone, and will have to overcome her own deepest fears to make it out alive. Grab your favorite Halloween treats, turn the lights out and dive head-first into the nightmare with "See You in Your Nightmares," this Halloween.
Want even more Halloween podcasts? iHeartRadio's "Halloween Radio" also has everything from the frightening real-life horror stories of "Lore," to some ghastly goofiness with "Prom in Hell" or the multi-award-winning original horror anthology series "The NoSleep Podcast." And don't forget to also check out the terrifyingly-good tunes of "Halloween Radio" for the perfect complement to all your frightening and fun Halloween festivities this year.
Thanks for joining us for this special edition of Podcast Spotlight, featuring highlights from iHeartRadio's "Halloween Radio" playlist. There are many more paranormal podcasts to explore in the full collection below! Check back next week for more new podcasts, seasons and episodes you won't want to miss. And if you still want more podcasts, click over to iHeart's Podcast Top 100 to stay-up-to-date with the most popular and trending shows!
Wishing everyone a fun and safe Halloween!