Image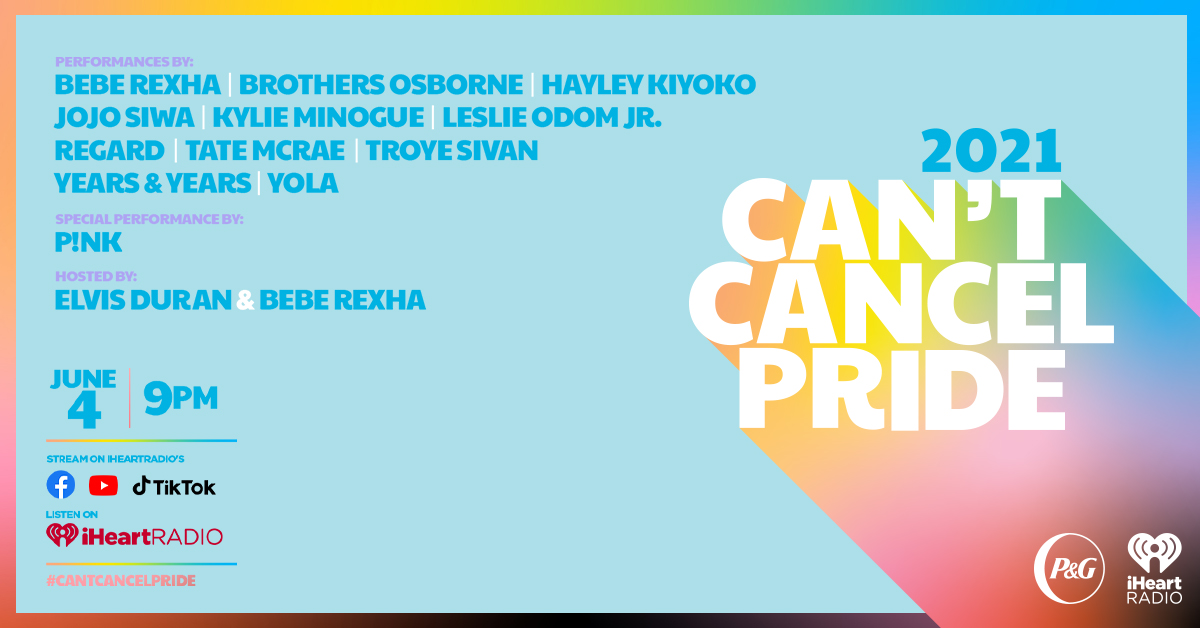 Artist of the Week: Can't Cancel Pride 2021
Pride Month is officially here: get ready to celebrate and help raise awareness and funds for the LGBTQ+ community by joining iHeartRadio for the ultimate Pride Party!
To show the LGBTQ+ community they are not alone and raise much-needed visibility and funds for the organizations providing life-saving resources and services, iHeartRadio and P&G are once again hosting "Can't Cancel Pride."
This star-studded virtual benefit is set to air on Friday, June 4, at 9pm ET across iHeartRadio stations nationwide and on the iHeartradio app. The one-hour special will also be streamed live on iHeartRadio's TikTok, YouTube, Facebook and Instagram—as well as on Revry. And will also be available on-demand on those platforms after it airs live, so there no shortage of ways to partake in this year's celebration all-month long!
Hosted by radio royalty Elvis Duran and pop queen Bebe Rexha, "Can't Cancel Pride" will feature headline performances from some of music's biggest names and up-and-coming stars—including Lil Nas X, P!nk, Marshmello, Ricky Martin and Bebe Rexha herself. There will also be even more appearances and acts from the likes of Hayley Kiyoko, Kylie Minogue, JoJo Siwa, Leslie Odom Jr, Brothers Osborne, Years & Years, Regard, Tate McRae, Troye Sivan, Yola and more!
"Can't Cancel Pride" demonstrates that nothing can stop the heart of Pride and the spirit that the LGBTQ+ equality movement embodies. The event will partner with Greater Cincinnati Foundation to administer and distribute financial support raised by the event to LGBTQ+ organizations with a track record of positive impact and support of the LGBTQ+ community including GLAAD, SAGE, The Trevor Project, The National Black Justice Coalition, CenterLink, and OutRight Action International.
It's a celebration you don't want to miss! So mark your calendars and get ready for "Can't Cancel Pride," streaming live on Friday, June 4, at 9pm ET!
You can also join iHeartRadio all-month long in celebrating the LGBTQ+ community by sharing your special Pride moments on social media using the hashtag #CantCancelPride, and supporting the nonprofits by visiting cantcancelpride.com or texting "RAINBOW" to 56512 to donate.