Image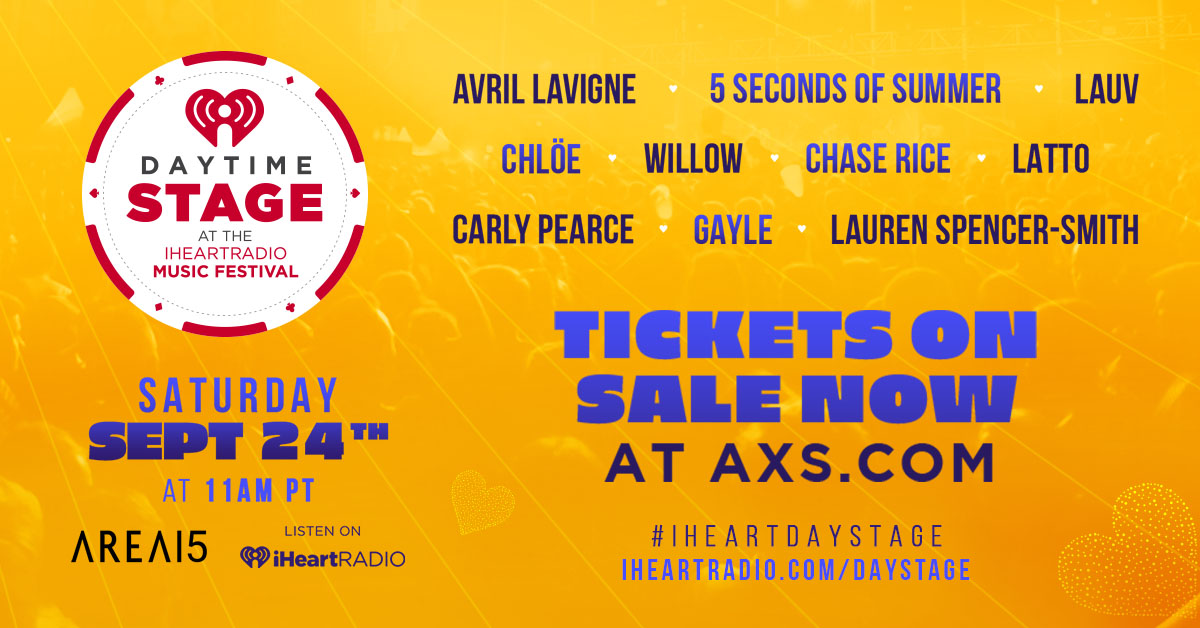 Artist of the Week: The Daytime Stage at the iHeartRadio Music Festival Lineup Announced!
A trip to Las Vegas AND seeing top artists play their fan-favorite music? Say no more! 
iHeartRadio has announced the lineup for The Daytime Stage at the annual iHeartRadio Music Festival, and it is stacked with your favorite artists.
On September 24th at 11am PT, artists like Avril Lavigne, 5 Seconds of Summer, Lauv, Chlöe, Willow, Chase Rice, Latto, Carly Pearce, GAYLE and Lauren Spencer-Smith will take The Daytime Stage in Vegas to perform at AREA15 for fans.
Along with performances at The Daytime Stage, fans will also be able to participate in fan zones and interactive experiences hosted by iHeartRadio's brand partners.
You won't want to miss out on this event!
Tickets are on sale now at AXS.com for The Daytime Stage 2022. The full 2022 iHeartRadio Music Festival, taking place on September 23rd and September 24th, will be streamed via iHeartMedia radio stations throughout the country across more than 150 markets. In addition to attending or streaming the experience, viewers can watch via an exclusive national television broadcast special on The CW Network at a later date, as well.
If looking for more news and information about the Daytime Stage, fans can visit iHeartRadio.com/DayStage or follow #iHeartDayStage on Twitter, Facebook and Instagram