Behind the Scenes with Paul Costabile: ICYMI iHeartRadio Musical Festival
By: Paul Costabile
What's up, guys? In case you missed it, we had an epic time in Vegas for our iHeartRadio Music Festival and you still have a chance to catch it all. Between the incredible performances, collaborations, surprise cameos and the craziness backstage, we had a blast. Throughout the weekend, I was tucked into a secret studio backstage capturing fun moments with all the festival artists for our special two-night broadcast which airs September 29 and 30 at 8 p.m. on The CW Network. #ShamelessPlug #TuneIn!
Here is a first look at the crazy antics you can expect from me during the broadcast:
What's always so great about the festival is the mix of artists and genres coming together in one place. I got the chance to play games, ask some rapid fire questions, and break out guitars and drums to jam with artists on set. I was able to freestyle a verse with Shawn Mendes and then again with Blake Shelton only a few minutes later. It was nonstop madness back there as artists kept shuffling in. Our first of the weekend was Demi Lovato, who announced in our rapid fire Q&A that her superhero name would be "BatMom":
Fast forward a few minutes to when Jason Derulo and I tried our best Coldplay/Jason Derulo-esque song where—spoiler alert—we both butchered our impressions of Chris Martin: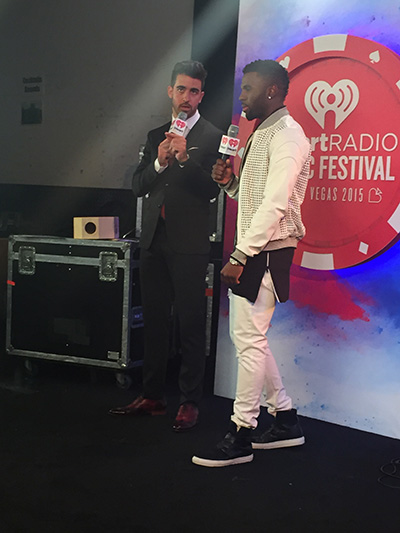 In between the chaos, keeping the room musical and alive, here I am with iHeartRadio's producer extraordinaire Colby Hall. We had an epic blues jam that unfortunately won't make the CW broadcast, but should've been recorded: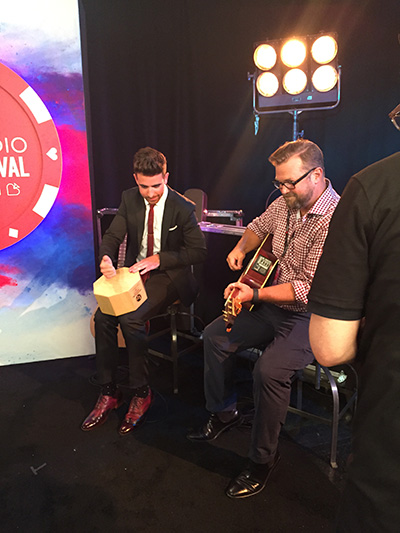 After some unforgettable impromptu moments on Friday, we packed up and got ready for a jam-packed day two which included the Daytime Village at the iHeartRadio Music Festival.
Of all the amazing stops on Saturday at The Village, being treated to proper style tips from some of the Internet's most notable fashion bloggers was among the best:
Before we knew it we were back inside the MGM Garden Arena for night two — just in time for a pic with the biggest star of them all, @JiffPom:
The night continued with interviews and fun times in our little studio plus even more impromptu music jams with Hozier, James Bay, Fall Out Boy, Tove Lo, Trey Songz and the amazing Tori Kelly, and lots more.
As the night flew by and the show was coming to a close, we thought the last of our guests had swung by — only to be told within seconds of closing shop that Puff Daddy was on his way: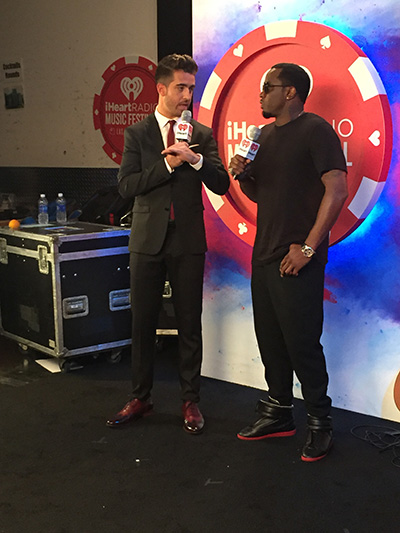 It really was such an awesome weekend full of hilarious, fun music moments! See them all come to life September 29th and 30th at 8 p.m. on The CW Network! In the meantime, I'm going to go work on my drumming skills and kidnap @JiffPom — 'til next time!​​​​