Employee of the Month Playlist: Darien Nurse
August's Employee of the Month playlist will have you feeling like you're at this summer's hottest music festival! Darien Nurse, our software engineer, combined his love of EDM artists like Alina Baraz & Galimatias with his passion for the best tracks on the radio to put together a super high-energy, eclectic mix. Check out his playlist below!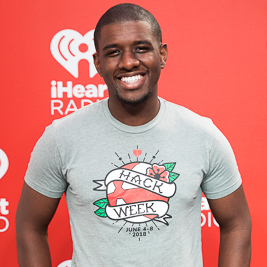 Why did you choose the songs on your playlist?
The first half of my playlist falls into the Chill/EDM genre. I like how this kind of music combines the vocals and electric beats to create mellow vibes. The latter half of the list contains a lot of artists most people would recognize, like DJ Khaled, Drake and Bruno Mars. I have a weakness for all sorts of Pop and R&B music. If it has ever been played on Z100, I probably love it.  
When do you listen to this playlist most?
I often listen to electronic music when I am coding at work, but I usually listen to pop music in high energy situations like at the gym or at parties.
Who is your dream artist to meet and why?
I would want to meet Childish Gambino (aka. Donald Glover). Like me, he was raised in Georgia and moved to New York to attend college. He easily has one of the most impressive careers in entertainment. Over the years, he has done stand-up comedy, acting, singing/rapping, directing, and producing. He has won a Grammy for "Best Traditional R&B Performance" and received Emmys and Golden Globes for his TV show Atlanta. I just want to know how he finds time to do it all.
Can you share your most memorable music moment experience?
This might be a boring answer to this question, but my best music moment would be the first day I worked at iHeartRadio. It was the first time I had the opportunity to use my engineering skills to improve and deliver music to millions of people. I am not sure what musical moment could ever beat that.
What is the best part about working at iHeartRadio?
The best part about working at iHeartRadio are the live performances. I have seen dozens of performances by extremely talented individuals at iHeart, my personal favorite being Sam Smith. When I attended iHeartMedia Summer Tuesdays earlier this quarter, I got to see lovelytheband perform. The band talked about how they were basically broke, discouraged, and had zero name recognition in 2016, but thanks to iHeartRadio they managed to become the No. 1 alternative band in 2017. That was the most concrete example of how my work at iHeart has made a difference in other people's lives.
A fun fact about myself is…
My birthday is on December 25th, Christmas Day.
Karin Flannery's Playlist​​​​​​​​​​​​​