Employee of the Month Playlist: Greg Cerchione and Chris Lavinio
We have a rare treat for you listeners, just in time for the holiday season! Greg Cerchione, streaming operations engineer and Chris Lavinio, marketing manager of acquisitions, have put together a joint Employee of the Month playlist, complete with their favorite holiday tunes! From "Merry Christmas, Happy Holidays," by NSYNC, to Frank Sinatra's "Let it snow! Let it snow! Let it snow," there's something here for everyone.
Check it out and get to know Cerchione and Lavinio a bit better below!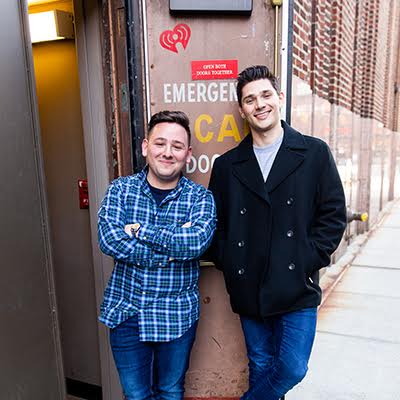 ​Why did you choose the songs on your playlist?

Greg Cerchione: I'm a huge fan of Christmas music, as is Chris. We worked diligently to create a fantastic mix of holiday classics, contemporary favorites, and some off-the-beaten- path tunes that really make for a great holiday playlist.
Chris Lavinio: Considering Greg and I decided to do a joint playlist in the month of December due to our overwhelming love for Christmas music, we felt it was necessary to provide the essential Christmas tunes everyone can enjoy this holiday season. It's the perfect mix of contemporary Christmas artists such as Michael Bublé and Mariah Carey, and timeless classics like Gene Autry and Brenda Lee.
When do you listen to this playlist most?
Cerchione: Naturally I'll be listening to this playlist throughout the holiday season, but at moments during the year, I'll throw on some of these great tracks and look forward for the coming yuletide.
Lavinio: I'll be listening to this playlist around my desk during the 25+ days leading up to Christmas! I'm thankful to have co-workers in my pod that appreciate some of the season's most swingin' tunes, such as Andy Williams' "It's The Most Wonderful Time of the Year," Bobby Helms' "Jingle Bell Rock," and of course, The Ronettes' "Frosty The Snowman!"
Who is your dream artist to meet and why?
Cerchione: A tough question indeed, but my gut tells me it would be Frank Sinatra. He truly was the Chairman of the Board, and interestingly enough, my parents and sister got to meet and spend some time with him, and I'll always be envious of that!
Lavinio: There are so many amazing artists, and by golly, it's tough to choose one! But, since I have to select one, it would be Charlie "Bird" Parker, the jazz saxophonist and composer. As a fellow alto saxophone player, I appreciate Parker's virtuosic technique in bebop tunes like "Yardbird Suite" and "Bloomdido." I'd love to learn about his quick-tempo compositions as he paved the way for many jazz greats today. Parker is a jazz great that's sorely missed.
Can you share your most memorable music moment experience?
Cerchione: So many to choose from! One of the most memorable music experiences I had is when I was around 10 years old, I traveled with the Goo Goo Dolls through the Hartford area and into Boston, hung out with the band and saw some awesome shows. It was cool being a 10-year old groupie.
Lavinio: Music has always been a big part of my upbringing. From listening to Frank Sinatra while driving in Hoboken, NJ to playing Beethoven's "Sonata No. 8 Op. 13 (Pathetique)" on a baby grand Steinway piano, I've always appreciated a potpourri of musical genres. My most memorable music experience has to be stepping into RCA Studio B in Nashville, TN, the site of Elvis Presley recording "Are You Lonesome Tonight?" There's still a piece of tape on the floor where Elvis stood to record, as that was the spot he thought he sounded the best. It was amazing to hear the track played through the studio monitors, envisioning Elvis' dynamic voice fill the room.
What is the best part about working at iHeartRadio?
Cerchione: The best part about working at iHeart is definitely the constant learning experiences. Regardless of who I talk to throughout the entire company, there's always something to learn. If I can offer some learnings to folks along the way, that's an added bonus!
Lavinio: The best part about working at iHeartRadio definitely has to be the people. Everyone is so supportive of each other. It's truly a great group of talented minds creating innovative products for music lovers!
A fun fact about myself is…
Cerchione: A fun fact about myself is that there's a Festivus pole that adorns my desk, so feel free to head over and air your grievances during the Festivus season, because it will always be a Festivus for the rest of us. As a huge Seinfeld fan, it's a necessary ornament for my desk!
Lavinio: I continue to dabble in the classical waltz's by Frédéric Chopin on the piano when I'm home. I love continuing to learn about the Romantic era of classical music, with swooping dynamics and chord changes. Chopin truly challenges me as a pianist every time I play something new.
​​
Greg and Chris' Playlist​​​​​​​​​​​​​​