Visitor Pass: It's Time To Embrace Armin van Buuren
By: Brian Fink, EDM Brand Ambassador for iHeartMedia and Program Director for Evolution on iHeartRadio
Let's take a look at Armin van Buuren by the numbers: he has been making music for 20 years. He's been the No. 1 DJ in the world five times. And I couldn't fit the number of award nominations and accolades he has received in this post if it were three pages long, but suffice to say, the list does include a Grammy nomination. You can drop a pin in almost any city and he has played there, and he has headlined almost every major dance festival worldwide. And now, Armin van Buuren has released his highly anticipated sixth studio album, Embrace.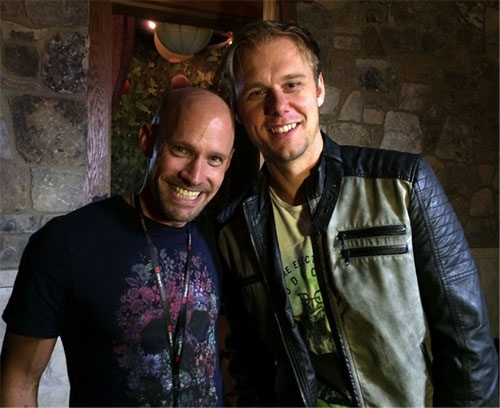 "When I saw you last, I was finishing my new artist album and under so much stress," Armin said to me this summer. "But it's finished now, so…" and with that, he released a huge sigh of relief.
I've known Armin van Buuren for 10 years and believe me, he has always been one of the hardest working artists in the dance music scene. You can hear the commitment to his craft in Embrace, which took two years to make and combines his classic sound with a new vibe.
"There's so much 'you can't work with this and you can't do that' in the scene. With my new album Embrace, the mission was to collaborate with artists you wouldn't normally expect me to collaborate with, and embrace different instruments. It was such an inspiration to work with people who have different ideas, different sounds, and I learned a lot," he told me. "I really wanted to push myself past my comfort zone and create something very exciting not just for me, but for all the lovers of music out there." And he's not kidding, as the album includes collabs with everyone from Hardwell to Mr. Probz, and even Gavin DeGraw.
It's always exciting when Armin releases new music, and with the 15 tracks on his new album, he once again doesn't disappoint. For a good look into the state of trance, you need to
embrace
the amazingly talented Armin van Buuren.
​