Employee of the Month Playlist: Servando Rosario
If you're looking for fun, diverse music to jam to this month, look no further than this playlist by Servando Rosario, Receptionist & Host of the iHeartRadio Digital Artist Lounge Live Sessions. From the comfort of the classics to the exhilaration of the greatest pop hits of the decade, Servando's playlist proves that an exciting life calls for an all-encompassing playlist. Listen for yourself below!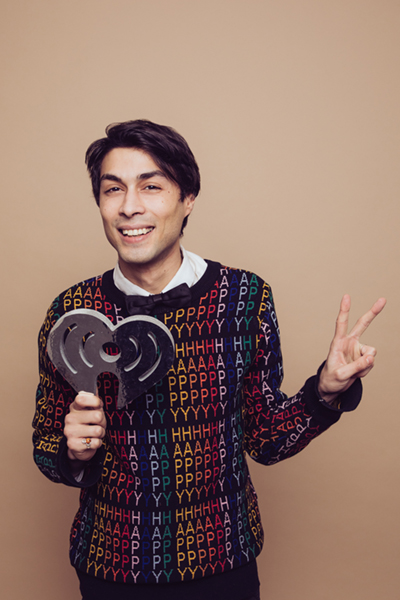 How come you chose the songs on your playlist?
I chose a set that would represent my eclectic style of life! My musical tastes are very diverse as are my life interests, so I tried to pick out songs what would display that. Also, my tastes have changed and adapted via my environment.
When do you listen to this playlist most?
All the time! I've never actually been much of a "create a playlist" person, I usually just individually pick or let shuffle decide. This is a playlist of music that I listen to all the time, even though I don't really do playlists themselves.  
Who is your dream artist to meet and why?
This is a hard one! I've had the opportunity to tell many of my favorite artists how much I've appreciated their music in person. So, I'd have to go with Oliver Heldens, he's a Dutch DJ and Music Producer that is really popular in Europe. He's gaining traction here in the U.S. and I have a feeling he'll have a mainstream hit this year!
Can you share your most memorable music moment experience?
I was at Swedish House Mafia's last show in NYC during their final "One Last Tour" in 2013. I somehow ended up in the biggest corporate box directly across from the stage and had a view of the entire Garden. I had an epiphany style slow motion moment watching the absolute sea of people being there for the single purpose of dancing and having a good time. It was probably the biggest concert I've been to at the time and a life changing experience!  
What is the best part about working at iHeartRadio?
The people! I haven't worked anywhere where the people have such an amazing social and professional chemistry. My favorite coworkers ever, I love the iHeart Family!
A fun fact about myself is…
During the 2016's Presidential Election I had a closed door meeting with and took the stage with Senator Bernie Sanders.
​
Employee Playlist of the Month​​​​​​​​​​​​​
​​​