Employee of the Month Playlist: Ralph Grajo
In need of a good laugh? Then look no further than this playlist by Ralph Grajo, Customer Service at iHeartRadio, which has the laugh-out-loud tunes for you! This exhilarating playlist features an array of feel-good songs from top-charting artists to your favorite comedians that are sure to set the mood for a good prank, just in time for April Fools' Day! Check out his full playlist below and let the hoaxes begin.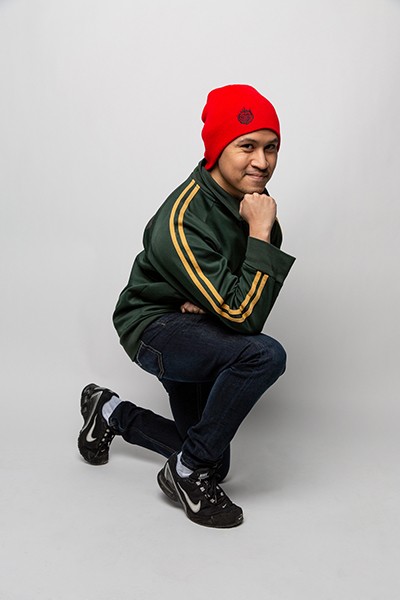 How come you chose the songs on your playlist?
It's April Fool's Day, and these are just meant to make you laugh which is mainly the point of this playlist. Meanwhile, others are funny and legitimately good songs (at least to me.) I also wanted a variety of songs with a range of genre and time. I organized them by genre: rock, love songs, rap, and others.
When do you listen to this playlist most?
Usually on the way to work, to cheer me up about going to work. I try not to listen to this playlist during work as I end up singing along to some explicitly charged songs, but I guess that's no better than on a crowded train.
Who is your dream artist to meet and why?
Weird Al Yankovic because the man has been in the music scene for close to 40 years. Every time you forget about him, blam! ; He just released a new album or announced a tour. Weird Al Yankovic seems like a great guy who loves what he does and the people he performs for. If you've never been to a Weird Al show, make plans to as he's going on tour this summer.
Can you share your most memorable music moment experience?
It was 2011, and I was in a hotel lounge in Amsterdam, you can make your assumptions. As I was waiting for my friends, the intro to Gorillaz's Clint Eastwood began playing. I saw heads bopping to the intro and when the opening chorus hit everyone started singing along. It was surreal that this group of people from different countries and cultures all spoke the same language for 5 minutes and 41 seconds.
What is the best part about working at iHeartRadio?
Free lunch? But it's a combination of being able to discover new music with the live sessions and the people. I've got to talk to cool artists and expanded my musical horizons even more. Then there are the people who work at iHeart who continuously exceed my expectations around their work ethic, compassion, knowledge, and of course their humor.
A fun fact about myself is…
The first time I rode a bike was in high school, on top of the Xi'an City Wall. It was a tandem bike, and my friend steered.​
Employee of the Month Playlist​​​​​​​​​​​​​​​​