Employee Playlist of the Month: Danielle Golinsky
If your 2018 resolution is to add a new flavor to your music taste, we've got just the thing! iHeartRadio senior software engineer Danielle Golinsky's employee playlist of the month is an eclectic mix of rock, pop, new and classic tunes to get you through this first month of 2018. Take a listen to her playlist here, and check out the full list below!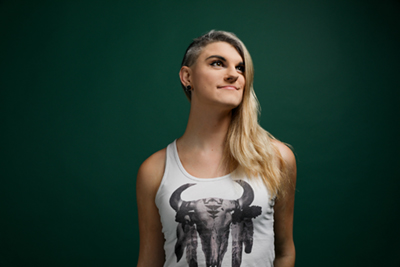 How come you chose the songs on your playlist?
I had two key motivators here: telling a story of teenage (to adult) rebellion, and making sure I choose from a variety of genres and artists. I wanted a lot of people to be able to listen to and enjoy this, while telling my own, very personal story of a rebellious youth with pop punk, love won, labored and lost; a carefree romp through fun songs I enjoyed in college from Kesha and Lady Gaga; and moving into a newfound sense of rebellion at an age that demands it, starting from election night with Streetlight Manifesto's "Watch it Crash," to Muse's "Uprising."
When do you listen to this playlist most?
I listened to it a lot while making it, of course. I wanted to make sure it had good flow, told a somewhat chronological story starting from adolescence, and ending with my current mood. But in general, I listen to it, or playlists I've made that are like it, almost every day. I've got a variety of playlists depending on my moods, parties (and the people attending them) and what I want to accomplish, whether it's focusing on work, entertaining myself on my commute, doing housework or just tuning out the many sounds of NYC (horns, sirens, trains, and catcallers). I love putting together playlists for occasions, road trips and everyday listening. Chances are, I've always got a song playing or at least an earworm on repeat in my head.  
Who is your dream artist to meet and why?
Despite how personal I've gotten with my answers here, this one is probably the toughest question so far! Do I pick an artist I'd love to meet because I'm totally crushing on them, like Tegan and Sara Quinn, Halsey, Hayley Williams or Paramore? Or do I go for an artist I consider to be the current-day epitome of punk rebellion, like Against Me! or Laura Jane Grace? Taylor Swift because we could talk about where we grew up in PA? The band who made some of my favorite party jams, such as The Killers? Or, do I go with Green Day, which appeared on my playlist the most, because they've had such a profound impact on the music I listen to and enjoy? It's a tough one! Maybe I'd just put out a request to a bunch of artists to meet at a dive bar for a beer and see who shows up!
Can you share your most memorable music moment experience?
I had a job after school when I was in high school. One day, before I left for school, I sent my parents an email, coming out to them. I knew I had work that night and therefore I wouldn't be able to get home before them and delete it before they could read it. There would be no chickening out. This playlist includes a song, "J.A.R." by Green Day. When I left work that day, I had it in my CD player, put the song on repeat and tried to use it to build up confidence to go home and tell my parents how I needed to live my life. As the lyrics say, "And I think it's alright that I do what I like 'cause that's the way I wanna live." I was terrified of going home and of the argument I knew I'd be forced to have with them, but listening to those lyrics, reminding myself that I have one life to live and I have to love living it gave me the strength to march through that front door that day. I needed that, and any time I hear that song I think of the confidence it inspired during a time when I was truly terrified. By the way, it took a while, but years later, my parents are now my greatest allies.
What is the best part about working at iHeartRadio?
Now this one isn't a tough question at all. I chose iHeart over a company that worked on video games (the very things that got me into programming) because I love music and wanted to return to NYC, where I was born. However, I've found so much here. I've had the chance to create some amazing things, go to cool shows, but, most importantly, meet some incredible people. I wouldn't trade my iHeart family for anything. Even the most stressful days are tolerable, thanks to the incredible crew here.
A fun fact about me is…
I'm a total adrenaline junkie, much to the ire of my mother, I'm sure. I've done a bit of everything to get my heart racing, from racing cars (autocross and track), to extreme sports like skateboarding (I still longboard), BMX, martial arts and parkour. And I absolutely love roller coasters. I still want to learn to surf and jump out of a plane at some point in the near future (uh, sorry, Mom).
1. Basket Case — Green Day
2. Numb — Linkin Park (What? I was an angsty emo kid, also, RIP, Chester)
3. Still Waiting — Sum 41 (A bit more upbeat tempo, so I went with this over In Too Deep.)
4. All the Small Things — Blink-182 (Everyone's favorite Blink-182 song)
5. Misery Business — Paramore (The top classic Paramore song)
6. J. A. R. (Jason Andrew Relva)  — Green Day (Yes, again)
7. Fell In Love With A Girl  — The White Stripes
8. Gold Guns Girls  — Metric
9. Boyfriend  — Tegan and Sara
10. Bad At Love  — Halsey
11. Spaceman  — The Killers
12. Anna Sun  — Walk the Moon
13. Let's Make This Moment a Crime  — The Format
14. Mr. Brightside — The Killers
15. Midnight City  — M83
16. The Edge of Glory  — Lady Gaga (Just a pump up jam)
17. Tik Tok  — Kesha
18. The Walker  — Fitz and the Tantrums
19. Ruby Soho  — Rancid
20. Piano Fire  — Sparklehorse
21. Campus  — Vampire Weekend
22. Castle  — Halsey
23. Watch it Crash  — Streetlight Manifesto (Yes, this is an abrupt transition. It's supposed to be that way.)
24. American Idiot  — Green Day (I seriously listened to this on loop after the election.)
25. I was a Teenage Anarchist  — Against Me!
26. Revolution Radio  — Green Day
27. Uprising  — Muse
​​​​​